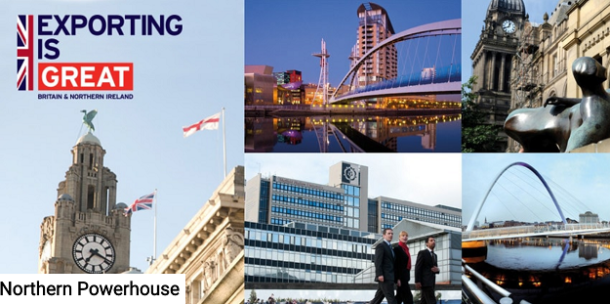 "You Can Export" events series – The Demand is out there. You Should be too.
Start date: 09/02/2018
Cost: Please register via Link
Thousands of businesses like yours have increased their sales, growth and stability by selling overseas.
Wherever you are on your journey, from securing your first overseas sale to developing a strategy that will help you to grow and succeed, our international experts are on hand to help you. Explore the potential of exporting with our "You Can Export" series of fully-funded workshops and masterclasses across the region.
You Can Export: Selling internationally for Service providers
09 February – Crewe Hall, Weston Road, Crewe, CW1 6UZ
This workshop will aim to address the processes involved and concerns of service companies seeking to enter international markets for the first time and build an international brand.
If you provide services you have huge potential to grow through exporting. If your company hasn't yet made any international sales and provides a service then this workshop is for you.
You Can Export: Grow Overseas – A Guide to Africa
14 February – Etihad Stadium, Manchester, M11 3FF
Countries such as South Africa, Nigeria, Algeria, Angola and Morocco offer huge potential for companies looking for new export markets. Hear all you need to know about market entry, insurance, getting paid, logistics and distribution in these exciting markets.
This is an intensive and interactive half-day event will introduce delegates to the essential pathways for growing your business into a variety of African markets. Key contacts from the DIT Africa Business Group will be on hand to discuss the variety of business opportunities in prearranged one-to-ones.
You Can Export: Online marketing to maximise export sales
15 February – Avenue HQ, Liverpool, L3 1BP
On their computer. On their smartphone. On their tablet. Ask any hugely successful business, the secret to marketing your product or service is being everywhere your customers are – and once you reach them, you have to serve content that meets their needs and expectations.
This masterclass will cover both country-specific and global trends, how to manage language and culture differences across your website, tools and techniques for market research and, most importantly of all, how to ensure success by planning digital marketing campaigns that provide a return on investment.
You Can Export: An Introduction to Export Market Research
27 February – Castle Green Hotel, Castle Green Ln, Kendal, LA9 6RG
Marketing research is the first and one of the most vital steps for any organisation considering entering a new market. This intensive half-day course is an invaluable introduction to the process of planning and conducting marketing research overseas.
You Can Export: How to manage Agents and Distributors
7 March – Holiday Inn Bolton Centre, Bolton, BL1 2EW
The use of agents and distributors to enter international markets is common. But is it the best method for you? And if it is, how can you build and manage a network of these trade multipliers?
This interactive workshop, delivered by Tony Brown, International Trade Adviser, will provide background theory and practical advice in this business critical area.
You Can Export: Protecting your intellectual property
21 March – Ewood Park, Blackburn, BB2 4JF
Intellectual Property Rights (IPR) are valuable assets for your business and it is important that you understand how these can be protected. This half-day workshop aims to give an overview of what constitutes intellectual property, the legal frameworks that are in place, the threats from international markets and how you can protect your IPR overseas.
You Can Export: How to thrive at Exhibitions
27 March – Halliwell Jones Stadium, Warrington, WA2 7NE
Taking a stand at a trade show or exhibition costs money and is a collection of many different opportunities in a short space of time. To capitalise requires expertise many companies could not be expected to have.
Gain an insight into just how worthwhile an exhibition is, and how to capitalise on the hundreds of opportunities walking around at a show. Pick up dozens of suggestions, ideas and tips – old hands will gain a fresh approach, and newcomers will start off on the right foot.
For more information: 
https://www.events.trade.gov.uk/event-campaign/northern-powerhouse-2/