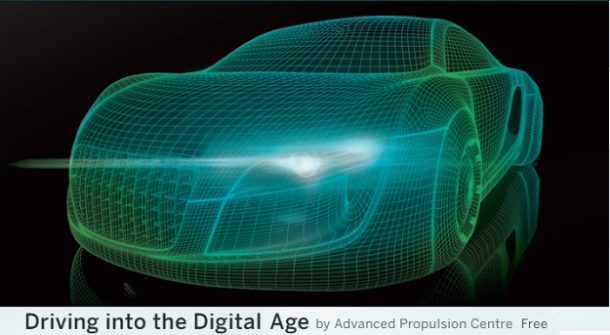 Driving into the Digital Age
Start date: 29/03/2017
Cost: Free, Please register via Eventbrite link
It's 2035 and you have decided to take a 3-year personalised transportation contract to keep you on the move…
After analysing your data profile (including your shopping habits, GPS tracking data, health details and social media profile) an intelligent computer algorithm has identified the optimal vehicle for your lifestyle. The vehicle specification matches the energy generation and charging infrastructure in your area, and the most sustainable fuel mix strategy for your contract has been calculated. Your new vehicle will be assembled to order and will drive autonomously to your home – identifying you as the approved driver using biometric data.
How real is this vision of the future?
Join the Advanced Propulsion Centre at the world famous Royal Institution lecture theatre on the 29th March 2017 for 'Driving into the digital age'. Hear a panel of world experts discuss the likely outcomes and debate the impact of digital technologies on the future of transport.
DATE AND TIME
Wed 29 March 2017
13:00 – 18:00
LOCATION
The Royal Institution Venue
21 Albemarle Street
London
W1S 4BS
 This lively event is open to all. For more information and to reserve your place:
https://www.eventbrite.co.uk/e/driving-into-the-digital-age-tickets-27795480029