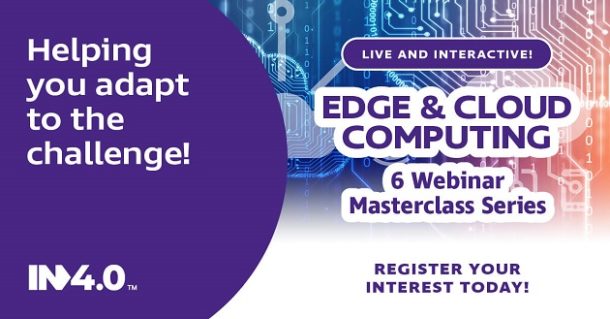 NAA Events/Training: FREE Edge & Cloud Computing Webinar Masterclass Series, 5 sessions in April & May 2020
Start date: 24/04/2020
Cost: Free to attend
Our Edge and Cloud Computing Masterclass Series with world-leading experts in Digital Innovation, Internet of Things, Cloud Computing, Artificial Intelligence and Machine Learning is taking place over 5 sessions in April & May 2020…
The content has been created in order to provide key knowledge that will also help you with maintaining your business operations during these challenging times.
The webinars are LIVE and INTERACTIVE and will give you an exclusive opportunity to ask live questions to industry-leading experts.
Over 5 sessions, we will cover:
A business's approach to their culture of innovation
Bringing Internet of Things use cases to life and how to articulate them based on solving business challenges and producing tangible outcomes.
Internet of Things solutions and architecture.
Artificial Intelligence and Machine Learning.
Practical application of Internet of Things devices and cloud operations.
The first session will give you an understanding of an international business and their journey to becoming the global enterprise they are today! The session will be delivered by one of their leaders in digital innovation, who will give valuable insight into their culture, mechanisms, architecture and organisation.
Sessions (90 mins each) – all sessions are FREE and start promptly at 3pm
Friday           3rd April
Friday           24th April
Friday           1st May
Thursday      7th May
Friday           15th May
Friday           22nd May
For full details and registration click here