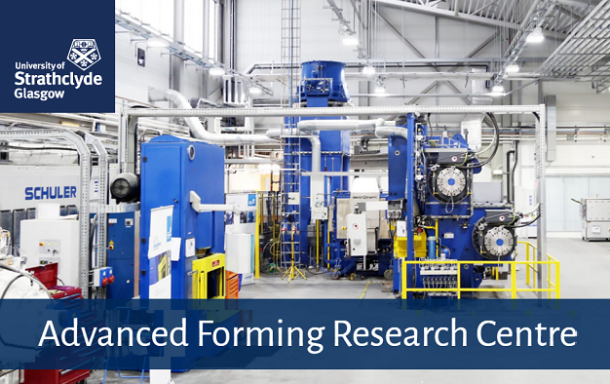 Free Automotive Manufacturing Event, 20 February 2018, Scotland
Start date: 20/02/2018
Cost: Free Please Register via email link
Want to know more about near-net shape metalforming of automotive components? Interested in finding out about funding and collaboration opportunities? Make your organisation more competitive by attending this free event at the AFRC. We will bring together equipment suppliers, manufacturers and funding bodies to create networking opportunities for the automotive sector with a particular focus on transmission components. Equipment on display will include our rotary forge, radial forge, flow former(s) and forge.
Event highlights 
Hear from research and industry experts
Component displays
Demonstration of machine capabilities
Tour of a world renowned research centre
Collaboration opportunities
Dissemination of previous research projects
Networking opportunities
About us
The Advanced Forming Research Centre (AFRC) is a globally-recognised centre of excellence in innovative manufacturing technologies, R&D, and metal forming and forging research.
The AFRC houses an extensive range of technology in near-net shape forming. Find out more about the centre's capabilities and how it helps companies of all sizes by attending this free event.
This is your opportunity to network with equipment suppliers, manufacturers and government funding bodies.
20 February 2018 – 09:30 – 15:30
Advanced Forming Research Centre (AFRC)
85 Inchinnan Drive
Inchinnan
Renfrewshire
PA4 9LJ
Tel: +44 (0)141 534 5200
www.strath.ac.uk/research/advancedformingresearchcentre
Free event
To register your interest, please email events@afrc.org.uk