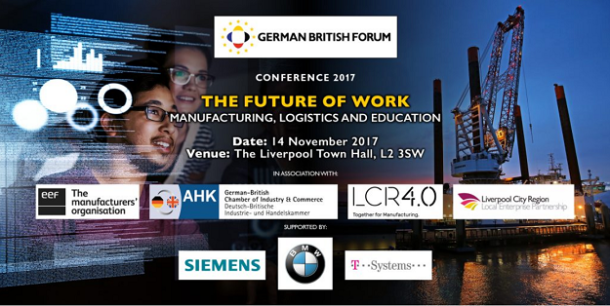 The 2017 German British Forum conference, "Digitalisation and The Future of Work", 14 November 2017, Liverpool Town Hall
Start date: 14/11/2017
Cost: Please register via Link see discount code in Event Text
In association with EEF, the German British Chamber of Industry and Commerce, Liverpool LEP and LCR 4.0
The 2017 German British Forum conference, "Digitalisation and The Future of Work", will be held on 14th November 2017 at the Liverpool Town Hall, 08:00 – 17:30.
The conference will debate the challenges for recruitment and training for businesses in the age of digitalisation and automation.
How will jobs change in the future and how can we communicate this to the education sector?
The conference focuses on manufacturing, engineering and logistics. Keynote speeches and panel discussions will exchange understanding of the future employment needs of industrial companies.
What are the aims of the UK's Industrial Digitalisation Strategy?
What is needed from education and business?
What has been done to improve manufacturing processes?
How is this affecting modern training and college courses?
What is the future of moving product – Logistik 4.0 and "Smart Ports"?
What does the future of food retail recruitment look like?
How will transformation from a traditional industry to a digital/IT company be managed?
Speakers include:
Dr Peter Ammon, German Ambassador to the United Kingdom
Chuka Umunna, MP for Streatham, Chair of Vote Leave Watch, Chair of the All Party Parliamentary Group on Social Integration
Juergen Maier, CEO of Siemens UK
Dieter Geuss, Director of the BMW Hams Hall engine plant
Carl Arntzen, CEO of BOSCH Thermotechnology Ltd
Gary Hodgson, Strategic Projects Director, Peel Ports Group which operates Liverpool2, the new deep water port that handles the new "SuezMax" class container ships
Dr Frank-Stephan Hardt, chief financial officer of T-Systems Ltd
Terry Scuoler, CEO of manufacturers' organisation EEF
Burkhard Sommer, director of PwC Maritime Competence Centre in Hamburg
Kieran Ring, CEO of the Global Institute of Logistics
Alan McKinnon, Professor of Logistics in the Kühne Logistics University in Hamburg
David Swann, Technical Director of Universal Wolf, makers of robotic systems for online retail
Plus panellists from Airbus, DHL, University of Liverpooland more
REGISTER NOW: THERE ARE NOW NO 'EARLY BIRD' PLACES AVAILABLE
Conference tickets cost £100 + vat for the full-day programme, refreshments and lunch.
Discounted tickets are available for those working in the education sector. If your organisation has no budget for events attendance please contact the organiser at info@gbf.com and wstirling@gbf.com.
Students attend for free but there is a limit on the number of students from the same college or university.
Following the conference, there is drinks reception and 3-course dinner which is a separate ticketed event.
Discount code for NAA Companies, GBFDISCOUNT
You can access it in the REGISTER tab > EventBrite page, click TICKETS, then click Enter Promotional Code