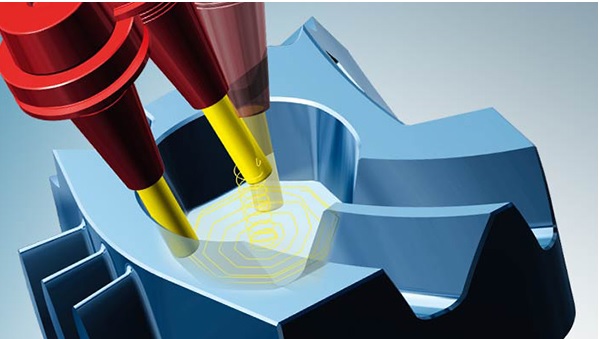 Maximum performance roughing, finishing and drilling with 5 axis perfection
Start date: 16/11/2016
Cost: More details via link in article
16 November 2016, AMRC S60 5TZ
Do you ever wonder: How can I get the most out of my machine?
The experts from the companies HEIDENHAIN, EMUGE FRANKEN, HERMLE and OPEN MIND will answer this question at the Advanced Manufacturing Research Centre (AMRC) in Sheffield.
We will present to you the unique interaction of the latest HEIDENHAIN CNC controller TNC  640 with the Hermle C42U MT machine tool and a range of excellent tool concepts, such as circle segment end mills and the CAM innovation hyperMILL® MAXX Machining.
There will be a live machining demonstration on a Hermle C42 with HEIDENHAIN controller inside the world class workshop of the AMRC where we will be demonstrating the following:
75% reduction in roughing cycle time using Trochoidal machining in 2D, 3D and 5 axis simultaneous.
90% saving in finishing using an innovation from OPEN MIND utilising the Conical Barrel cutters supplied by EMUGE FRANKEN.
Fast material removal in deep pockets using 5-axis helical drilling.
Data transfer and exchange via direct connection between TNC 640 and hyperMILL®.
Machine data collecting and analysis via HEIDENHAIN state monitor
Agenda
9:00 am          Arrival and registration
9:30 am          Welcome
9:45 am          AMRC presentation
10:15 am        Heidenhain presentation
11.00 am        Break
11:30 am        OPEN MIND presentation
12:15 pm        Lunch
1:00 pm          Live machining demonstration
2:00 pm          Time for questions and feedback
2:30 pm          Optional tour of AMRC
3:30 pm          Close
Find out more about the AMRC Design and Prototyping Group at: www.amrc.co.uk/research/design/