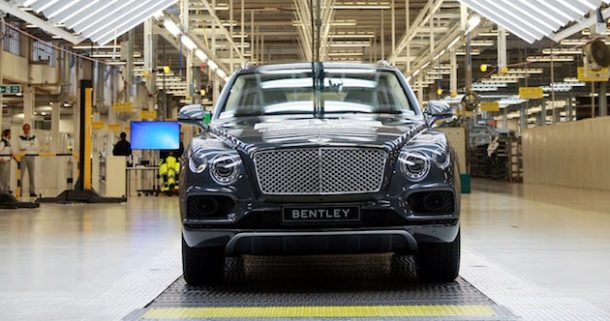 NAA Event: Explore the Extraordinary, Bentley Motors, Crewe, 24 October 2017
Start date: 24/10/2017
Cost: Please register via Eventbrite link Free for NAA Members
Join us at Bentley's state of the art factory in Crewe, where 'precision of the present meets the passion of the past'. With an unparalleled heritage, Bentley Motors has been creating powerful and handcrafted luxury cars, affording customers a Journey of Powerful Luxury…
This networking event will give members the opportunity to see craftsmen at work as each Bentley is created, not merely assembled. The factory balances advanced production technology with the skill of traditional artisans, whose expertise with leather, metal and wood make each Bentley unique and a sight to see.
Since 1919, Bentley's uncompromising vision has allowed the company to achieve the highest levels of bespoke luxury, with a clear, instantly recognisable bloodline running through all of its cars.
Bentley Motors
Pyms Lane
Crewe
CW1 3PL
Tuesday 24th October 2017
12:00 – 15:00
Agenda
12:00  Arrival & Lunch
12:45  Welcome & Introduction
Presentations
13:45  Break & Refreshments
14:00  Site tours
15:00  Depart
Registration
Registration is available via Eventbrite, following the link below. This event is for NAA members in the first instance. If there are any spare places, tickets will be allocated from the waiting list.
https://www.eventbrite.co.uk/e/explore-the-extraordinary-tickets-36351895498
If you would like to check if your NAA membership is still valid, please e-mail martina.rodrigues@northernautoalliance.com
Please note, registration is restricted to 1 person per NAA Member Company and Bentley reserve the right to refuse admission to this event.
If you are an NAA member company and you would like a second person from your company to be added to the reserve list, please e-mail martina.rodrigues@northernautoalliance.com