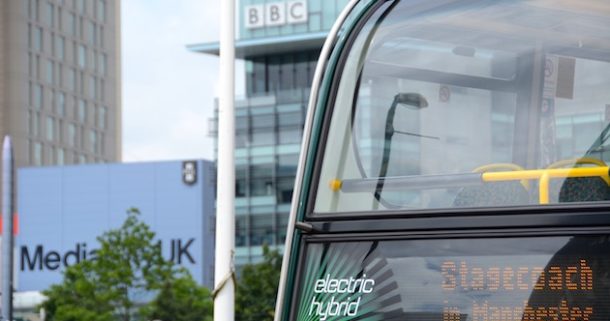 NAA & LowCVP Conference: 'Moving North' – Reducing transport emissions in the Northern Powerhouse & the business opportunities from the low carbon shift, 12 April 2018, Manchester
Start date: 12/04/2018
Cost: 25% reduction for NAA Members, Registration via Eventbrite link required
All NAA members are encouraged to book now for the NAA's first conference, held in partnership with the Low Carbon Vehicle Partnership (LowCVP), which will look at the future of transport in the Northern Powerhouse, and the resultant business opportunities for NAA member companies…
The LowCVP's 2018 'Moving North' Conference is held in association with the Mayor of Greater Manchester, the Northern Automotive Alliance and Transport for Greater Manchester. It is supported by Manchester Metropolitan University.
The event, opening with a keynote address by the Mayor of Greater Manchester, Andy Burnham, will focus on the challenge of cutting carbon emissions and air pollution and seizing the business opportunities for automotive and fuel supply companies in the Northern Powerhouse.
The conference will be followed by a networking drinks reception.
This is a ticketed event, which is free to members of the LowCVP. There is a 25% discount for members of the Northern Automotive Alliance (NAA). Non-members are invited at the standard price of £100.
Speakers include:
Andy Burnham, Mayor of Greater Manchester
Mike Hawes, Chief Executive, Society of Motor Manufacturers and Traders (SMMT)
Lawrence Davies MBE, Chief Executive, Automotive Investment Organisation
Jon Lamonte, Chief Executive, Transport for Greater Manchester (TfGM)
Andy Eastlake, Managing Director, Low Carbon Vehicle Partnership (LowCVP)
Carol Holden OBE, Chief Executive, Northern Automotive Alliance (NAA)
Dave Roberts, Director, Smart Interventions, EA Technology.
There are sponsorship and exhibition opportunities associated with this event (including limited external vehicle display). Contact the LowCVP Secretariat for more information (secretariat@lowcvp.org.uk).
Thursday 12th April, 10am-6pm, Manchester Metropolitan University Business School, All Saints Campus, Manchester, M15 6BH
Book Now:
https://www.eventbrite.com/e/moving-north-reducing-transport-emissions-in-the-northern-powerhouse-tickets-42368576553