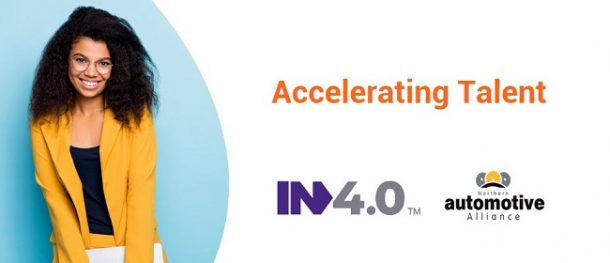 NAA Webinar – Accelerating Talent
Start date: 23/09/2020
Cost: Free to attend
Companies are very aware of the need to drive digital transformation, but accessing the right talent to do this can be a challenge.
About this Event
Join IN4.0 Group and the Northern Automotive Alliance and learn about the most skilled, employment ready and diverse graduate talent in the country – that just happens to be in the North West!
Hear from a panel of outstanding graduate digital engineers about their experiences of completing the high calibre IN4.0 talent academy and discover the innovative and cost effective ways that you can access this talent in order to future proof your business!
Agenda
11:00 – 11:10 – Welcome and Introductions (Paul Jones, NAA)
11:10 – 11:20 – Introduction to the IN4.0 Talent Academy (Mo Isap, IN4.0)
11:20 – 11:35 – Panel of graduates discussing their experiences – (Hosted by Andy Curzons; with                           Graduates – Aminah, Kelsey & Simone)
11:35 -11:50 – Industry Perspective – (Hosted by Mo Isap with Bentley and NGF Europe Limited)
11:50 -12:00 – Q&A
To register for this event, click here (the Zoom webinar link will be sent to you once registered)