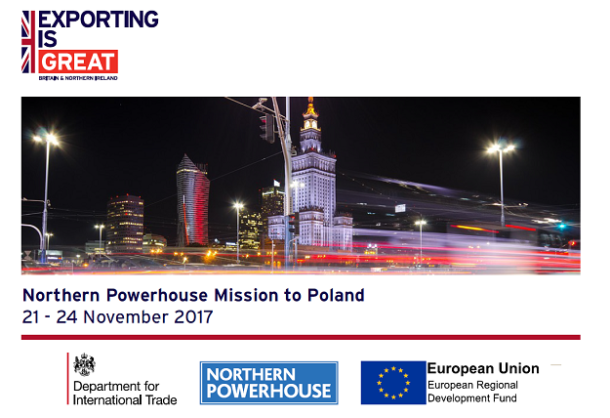 Northern Powerhouse Mission to Poland- 21 – 24 November 2017
Start date: 21/11/2017
Cost: See Cost information in Event
DIT invites businesses in the advanced manufacturing sector to join them on this visit to Poland. The mission is one of many initiatives encouraging growth across the Northern Powerhouse.
The aim is to showcase Northern expertise in Poland and encourage companies to develop business overseas in a structured and supportive environment.
Attending the mission will give delegates insight into the Polish market and plenty of opportunities to network with industry experts.
 What's on offer? 
Cost-effective, risk-free insight to a key trading market
In-market support by DIT and the Polish British Chamber of Commerce
One-to-one meetings with local businesses
Networking breakfast with Polish British Chamber of Commerce
Pre and post-mission support from an experienced International Trade Adviser
Register now and discover how export can maximise your growth potential.
Link to Register Your Interest
To find out more about the 16 Northern Powerhouse Trade Missions please visit http://bit.ly/NPH_MissionProgramme
Dates
21 – 24 November 2017
Location
Warsaw, Poland
Cost
£99 excl. VAT non-refundable booking fee* which covers travel, accommodation and programme activities. Please note due to limited capacity only one delegate per company will be permitted.
For more information please contact
Duncan Hoyland
Export Co-ordinator
E: duncan.hoyland@mobile.trade.gov.uk
T: +44 (0) 7500 082 586
Registration
To register your interest please visit http://bit.ly/NPHPoland
Eligibility
Companies must be from the Northern Powerhouse region and be a small or medium sized enterprise with less than 250 employees and not exceed €50 million in annual turnover.
*  The price of £99 is only guaranteed for bookings up to the deadline date of 23 October 2017 for flight reservations. Following this date the cost may increase to reflect extra fight booking fees.