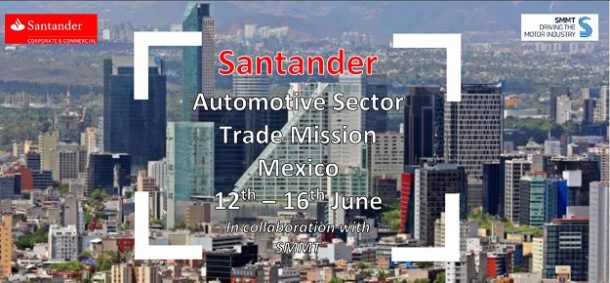 Santander Automotive Trade Mission to Mexico, 12-16 June 2017
Start date: 12/06/2017
Cost: See details in article
The Santander Automotive Trade Mission to Mexico, in collaboration with SMMT, will enable you to tap into one of the largest automotive production markets in the world.
With a full programme of pre-arranged 1-2-1 meetings with importers & distributors; access to the INA PAACE Automechanika, Mexico City, trade show; various receptions and networking opportunities; means that the Santander Trade Mission to Mexico provides a great opportunity to explore the potential of the Mexican automotive sector for your business.
As one of the world's largest banking groups with a major presence in Mexico, Santander Mexico is ranked third largest bank in Mexico, we are able to support you in building new contacts and trading partnerships in the Market.
Indicative cost of the Trade Mission
Flights between £794 and £1,355 per person return (based on Economy Fare).
Hotels between £749 and £986 per person for 4 nights B&B.
(Flights are from and returning to Heathrow Airport)
The cost of the transfers to and from the Mexico City Airport will be met by Santander as will transport to and from INA PAACE Automechanika when traveling as part of the Santander party.
Subject to qualification and for a limited number of delegates only (and only one delegate per company) Santander will be contributing £750 towards the cost of the flights and paying the cost of the in-country corporate matchmaking, estimated at £500 per delegate.
For further information on the Trade Mission and on how to join the Trade Mission please contact Sabrina Mahmood Sabrina.mahmood@santander.co.uk