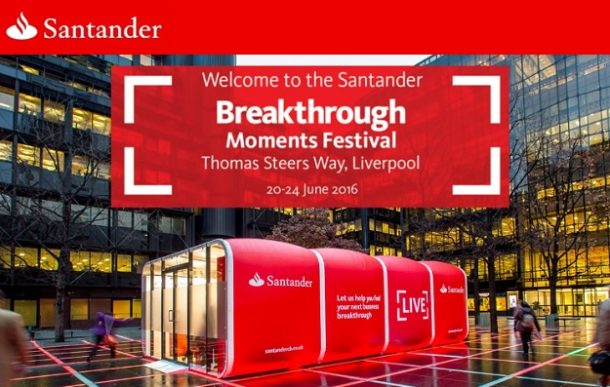 Santander Breakthrough Moments Festival, 20-24 June 2016, including Manufacturing – making connections that matter, Thursday 23 June 2016
Start date: 20/06/2016
Cost: Please register via link in Article
The Santander Breakthrough Moments Festival is coming to Liverpool for five days of free events that could help you take your business to the next level.
Places are limited so please review the sessions and book your place on those that you would like to attend to avoid disappointment.
Please also share the link with your colleagues in other functions or areas of your business if you feel they may benefit from the varied agenda.
What you can expect to gain from visiting this unique event space:
This is an excellent opportunity to learn from the experience of a variety of inspirational speakers from well known organisations including Twitter, Microsoft and Liverpool's own Shop Direct to name just a few.
Whether you're starting up or looking for your next growth opportunity the agenda is packed with a wide selection of bite sized sessions.
Experts will be on hand to share their knowledge and expertise across a range of subjects.
Manufacturing – making connections that matter, Thursday 23 June 2016
08.00am: Arrival/ Breakfast/Networking
08.15am:
Charles Garfit
Gary Sheader – Manufacturers Alliance
Three manufacturers overview
Carol Holden OBE, Northern Automotive Alliance
09.15am: Panel Discussion, Q&A
Sum up
09.45am: Networking/Close
Register:
https://www.eventsforce.net/santander/frontend/reg/thome.csp?pageID=62548&eventID=226&traceRedir=2&eventID=226