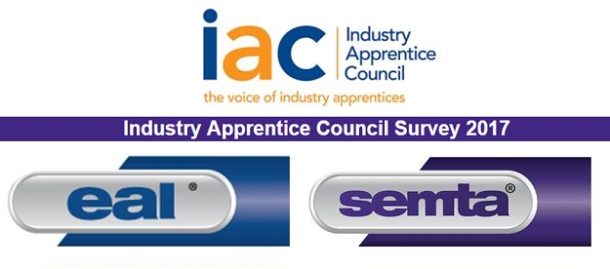 Apprentices could win £250 – just by completing the IAC survey
Are you an apprentice? Do you employ apprentices in your company?
For the chance to win a £250 voucher, encourage apprentices across the UK working in all sectors to complete the Industry Apprentice Council (IAC) survey today.
It only takes a few minutes and is a great opportunity for apprentices to have their say about their apprenticeship experience and the careers advice they received.
The IAC is the leading voice of industry apprentices, taking input and feedback from apprentices and representing their views at the highest level in Parliament. The survey provides key insight to ensure the IAC's work is truly representative of the apprentice community.
In 2016 over 1,500 apprentices across the UK took part in the survey, you can read the key findings from this report here: http://semta.org.uk/iac?utm_source=Semta%20Group&utm_medium=email&utm_campaign=8170231_IAC%20Survey%202017%20%28Generic%29&dm_i=9GG,4V46V,850FW5,IE6TZ,1
Encourage apprentices to have their say and click the link below to complete the survey: https://www.snapsurveys.com/wh/s.asp?k=148424093254&utm_source=Semta%20Group&utm_medium=email&utm_campaign=8170231_IAC%20Survey%202017%20%28Generic%29&dm_i=9GG,4V46V,850FW5,IE6TY,1