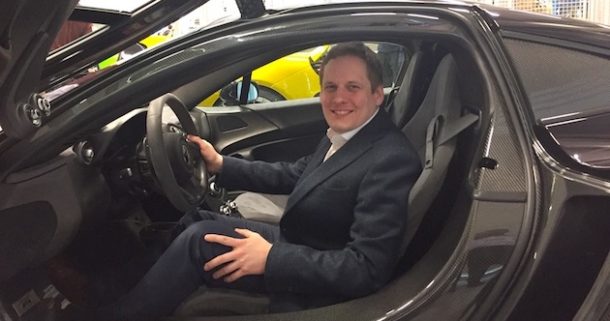 In the Driving Seat: Chris Greaves, Operations Manager – AMRC Factory 2050
An imminent NAA visit is to AMRC Factory 2050, where you will meet Operations Manager Chris Greaves; get briefed now on Chris's car history, involving a Jaguar E-Type, Triumph TR5 and Mazda MX-5…
Name
Chris Greaves
Company
AMRC with Boeing
Position
Operations Manager – AMRC Factory 2050
Apart from that
Member IMeche, MSA National B Competition Licence
Association with NAA
AMRC is a one of the largest research organisations in the UK. Originally focused on Aerospace research, we now work in multiple engineering sectors, including Automotive. Introduced to NAA through Festo at 2016 Awards dinner – very impressed by the NAA's work and partner list!
Why did you join the NAA?
I believe that we can be of assistance to NAA members with regards to funding – both UK and European. We also want to provide assistance and improve links to the automotive supply chain.
Personal
Recently engaged and due to get married April 2018. A petrol head – very slowly restoring a 1993 Mazda MX-5. Have also restored a Triumph TR5 and Jaguar E-Type within the family previously. Also support, as a mechanic, classic touring car racing and rallycross events with friends. Also enjoy the outdoors – often visiting Bamburgh, Northumberland and a family's farm in Hadleigh, Suffolk.
Favourite football team
Football – too slow for me!
Musical performer
The Beatles
Movie
The Italian Job
Books
Goldfinder – Keith Jessop
Best motoring moment
Two weeks after passing my driving test being asked to work on my family's farm in Suffolk to support the harvest. After a 5 minute 'driving lesson', being handed the keys to a 15 ton Massey Ferguson Tractor and 10 ton trailer and being told not to go too quickly and don't drop any wheat!
Best business advice you've ever received?
Always act as if it were your own company.