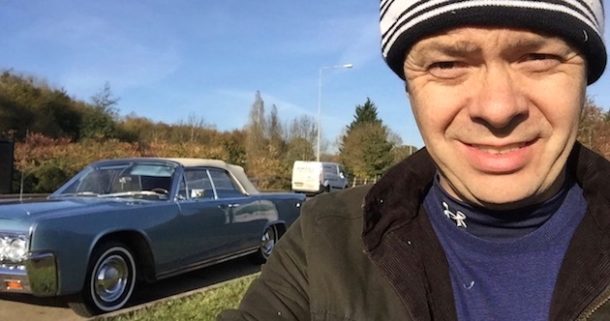 In the Driving Seat: Ian Constance, Chief Executive Officer, Advanced Propulsion Centre UK (APC)
Anyone interested in the motor industry and all things cars should enjoy this month's 'In the Driving Seat' feature about Ian Constance, Chief Executive Officer, Advanced Propulsion Centre UK (APC)…
Name
Ian Constance
Company
Advanced Propulsion Centre UK (APC)
Position
Chief Executive Officer
Apart from that
Chartered Engineer
Member of the Institute of Engineering and Technology
Member of the Institute of Directors
Member of the Automotive Council
Association with NAA
Since its creation at the beginning of 2014, the APC has had a strong relationship with the NAA, in order to support the growth in UK capability in future propulsion technologies and the associated supply chain development. Working with the NAA enables the APC to reach out to Northern companies and likewise enables Northern businesses to access the APC resources more effectively.
Carol Holden and her team regularly engage with the APC either through participation in our events to learn more about the opportunities for the NAA members or by having the APC participate in NAA events and activities in order to present to the members the range of opportunities for support.
I met Carol at the IFB 2016 in Liverpool, we have had a similar career path and experiences so immediately hit it off. My own experiences, early in my career working at Ford's Halewood plant, result in my lifelong affection for the region.
Why did you join the NAA?
The APC is able to support companies from OEMs to small technology developers through a range of programmes that we run. Having the strong relationship with the NAA enhances the opportunities of companies from the North of England engaging in one of these programmes. The most widely known of these is our large competitions that currently run twice per year for projects valued between £5 million and £40 million. These require a minimum of two collaborators, a route to market company such as an OEM or Tier 1, and an SME, enabling the pull through to production of innovative technologies that are then anchored in the UK or in the case of the NAA members, the North of England.
In addition to the main APC competitions, the team have presented to NAA members a number of other engagement opportunities which include our:
Technology Developer Accelerator Programme
Micro programmes run annually for projects up to £500,000
Spoke communities. These are centred principally around the Automotive Council strategic technologies and are open and inclusive communities of industry and academia.
Personal
I have enjoyed a full-on automotive career spending 24 years with Ford globally. My roles, principally in product development, have been mainly overseas, working in Germany, Thailand, China and the USA. I returned to the UK in late summer 2015 to join the APC and lead the organisation through its next development stage. This exciting role enables me to give something back to industry by helping UK-based organisations develop innovative products, while ensuring that local as well as overseas companies can rapidly access support and are motivated to invest in the UK.
Away from work, spending time with my wife and three rapidly growing up daughters is what it's all about. When I'm not on Dad's taxi duty, I'm often working on the 300 year old home that we bought last year – there always seems to be something… To keep fit I enjoy running, cycling, and have been known to take part in the odd (sprint) triathlon.
I am a firm believer in the direction of travel of the industry towards an electrified future and believe in "driving the talk" on a daily basis in my Nissan Leaf. However, I am still a bit of a 'petrol head' at heart and spend far too much time and cash on my classic 1963 Lincoln Continental Convertible (that's the one with the suicide doors) which I brought back from the USA, and my old Land Rover Defender. I do keep the miles very low in these two classics to keep my carbon conscience at bay.
Favourite football team
Not much of a footie fan these days but I do follow Aston Villa.
Musical performer
Can narrow down to top five: The Jam, The Cure, Stone Roses, U2, Madness
Movie
Bond, Bourne, original Star Wars trilogy in that order
Books
Favourite authors are Micheal Crichton, Iain M Banks
Best motoring moment
I have been fortunate enough to have driven some great cars in some really cool places around the world as part of Ford's development team. One of the most memorable was a long distance appraisal in performance saloons along the Great Ocean Road in Australia. I couldn't believe that I was being paid to have so much fun!
Best business advice you've ever received?
It's nice to be important, but it's more important to be nice!