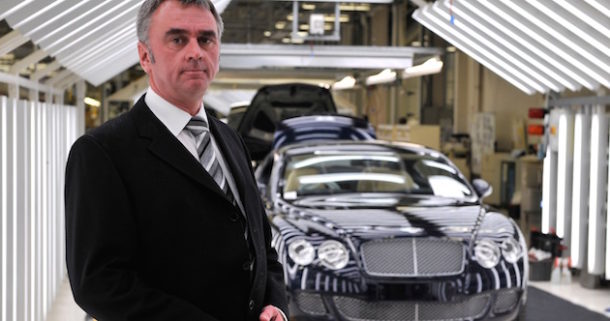 In the Driving Seat: Mark Harding, Manufacturing Project Leader, Bentley Motors Ltd
Mark Harding, Manufacturing Project Leader at Bentley Motors Ltd, takes centre-stage on the recently-filmed video for the NAA's STRIVE project (see article below), but what's he really like when he's not on camera?…
Name
Mark Harding MSc
Company
Bentley Motors Ltd
Position
Manufacturing Project Leader
Apart from that
Previously on the Board of South Cheshire Chambers of Commerce.
Association with NAA
I have had association with the NAA for the past 3 years through the collaborative AMSCI project STRIVE.
Why did you join the NAA?
Through experience of seeing the benefits a large OEM can gain by networking with SMEs and academic institutions, finding mutually beneficial solutions enabling and generating growth.
Personal
I have been married to my wife Claire for 32 years, we have two daughters, Hannah, who has a Masters in Mechanical Engineering, and now works at Bentley, and our youngest, Emily, who is in her final degree year as a nurse.
Favourite football team
I don't have a favourite in any sport except perhaps Valentino Rossi. I generally always find myself supporting the underdog.
Musical performer
I have a fairly eclectic mix of different genres, including Brand X, Gregory Porter, Frank Sinatra, David Sylvian, and JP Cooper to Café Del Mar. I've also played guitars for more than 40 years.
Movie
Included in my most repeatedly watched films, any of the Bourne releases, Blade Runner, and the quirky Mystery Men.
Books
They tend to be human adventure, like Touching the Void, Jupiter's Travels, Mad Bad and Dangerous to Know  but sometimes with humour too like Around Ireland With a Fridge, McCarthey's Bar.
Best motoring moment:
Working for Bentley and previously Rolls Royce I can say I have had many moments, like our first return to Le Mans and now our successes in GT3. My best motoring moment was at the age of 17 and my first month after passing my driving test I blew up my mother's 1303 Beetle engine. I removed the engine and repaired a broken valve and piston head in a week. It taught me a lot about trust, understanding your limits but also be confident in the skills you have.
Best business advice you've ever received?
Not really advice but experiences throughout the STRIVE collaborative project, seeking partnerships, generating common goals and entrepreneurial intuitive thinking can create many opportunities for growth.