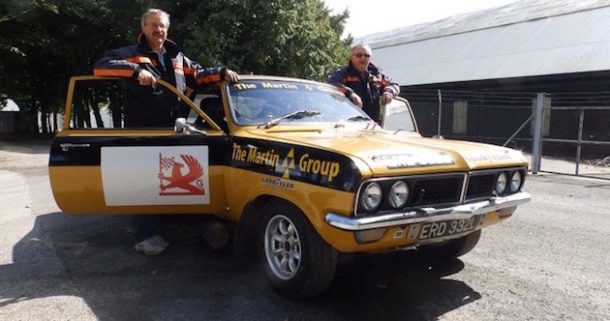 In the Driving Seat: Simon Malins, Industrial Programme Manager, University of Huddersfield
You may know Simon Malins as the NAA's representative in the Yorkshire & Humber region, but what you may not know is that he has competed in the RAC Rally and today drives some very interesting rally cars…
Name
Simon Malins
Company
University of Huddersfield
Position
Industrial Programme Manager
Apart from that
I am a member of the EEF Yorkshire & Humber Regional Advisory Board and a Member of the University Industrial Advisory Panel. I also sit on the Leeds City Region LEP Supply Chain Steering Group.
Association with NAA
The University of Huddersfield has been a member for just over a year and I am working for the NAA part-time to develop the membership base in the Yorkshire & Humber Region. Also our Director of Research & Enterprise, Prof Liz Towns-Andrews (my boss), is a member of the NAA Advisory Board representing Higher Education in the region.
Why did you join the NAA?
Carol convinced us to join so we thought it would be a good idea! There was a common interest to develop the Automotive sector across the North of England so it was logical for the NAA to spread its wings from the North West to now include the Yorkshire & Humber region.
Personal
I am married to Sue and we have two children, Alexander, 23, and Charlotte, 20. After retiring from playing cricket some years ago my only real interest and hobby these days is historic rallying. I sit on the Historic Rally Car Register Committee and next year will be running the HRCR old STAGER Asphalt Historic Rally Championship. I also compete in Historic rallies with my Vauxhall Firenza 2.3 and a recently completed Hillman Hunter built to a similar specification that the Rootes factory team used to win the 1968 London to Sydney Marathon.
Favourite football team
Sorry cricket is my game, and Lancashire my team, having grown up on t'other side of t'hill in East Cheshire.
Musical performers
Back to my youth for this, The Moody Blues and ELO. I still play Moody Blues 'Days of Future Past' which includes the iconic Knights in White Satin.
Movie
Never really been a movie fan but 2001 a Space Odyssey was brilliant considering they didn't have access to all the digital animation toys they have today. The ending is a confrontation between man and computer and I believe the computer won. Makes you wonder about the advent of autonomous vehicles on our roads and the decisions that computers will be making.
Books
I don't read many books but the one that sticks in my mind is Animal Farm by George Orwell which I read for English Lit at O-level. So much that goes on in the world today can be related to the storyline of this one book. More recently I have concentrated on swatting up on all things Historic Rallying. You probably get the recurring theme by now. If not, read on…
Best motoring moment
Crossing the finishing line of the 1982 Lombard RAC Rally at York Racecourse, even though by the time we got there most people were in the pub, but I have the finisher's medal to prove it! That was one of the last great RAC Rallies, over five days and three nights, with, I think, around 70 stages totalling over 500 miles, in an overall route of 2,000 miles.
Best business advice you've ever received?
Treat everyone with respect and courtesy even though you may not always agree with what they do or say.