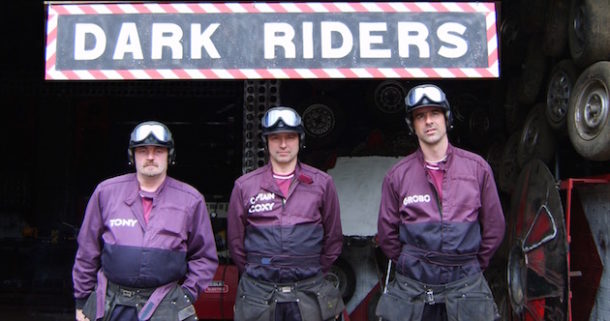 In the Driving Seat: Tony Cox, Manager, Helical Warton Technical Centre, Helical Technology
Tony Cox is the subject of one of our most interesting 'In the Driving Seat' features, as amongst other things he led the 'Dark Riders' team that took part in the TV series Scrapheap Challenge presented by Robert Llewellyn and Lisa Rogers…
Name
Tony Cox
Company
Helical Technology Ltd
Position
Manager, Helical Warton Technical Centre
Apart from that
Chartered Engineer with the Institute of Mechanical Engineers
North West Regional Representative and Director of The Motorcycle Action Group (MAG)
Why did you join the NAA?
To work with and alongside other member companies.
Personal
Outside of my work commitments I enjoy working on and riding my collection of motorcycles. The main bikes I use on a daily basis are Japanese but I am currently rebuilding and heavily customising a 1988 Evo-engined 1340cc Harley Davidson Softail FXST.
Favourite football team
I used to be an avid Manchester United supporter along with my son Sean until he turned professional Rugby Union player and then my attention was taken following his career with Sale Sharks, Edinburgh, and London Irish.
Musical performer
I was always into the Seattle Grunge scene with the likes of Nirvana, Pearl Jam Alice in Chains and Soundgarden from which emerged the solo career of Chris Cornell who continues to write and perform some wonderful compositions.
Movie
Blues Brothers has always been my favourite and I keep it close to the DVD player whenever I'm in need of a good laugh.
Books
I don't get much time to read books but recently bought a Kindle and have a mixture of comedy and factual novels on there, the common theme being motorcycling.
Best motoring moment
I use to race Stock Cars and Bangers at a number of tracks around the North West but my claim to fame was winning the 1990 End of Season Destruction Derby at Warton Stock Car Club. The End of Season Finale was always the most violently contested battle and held the greatest prize and trophy.
I was also part of the 'Dark Riders' team that took part in the TV series Scrapheap Challenge presented by Robert Llewellyn and Lisa Rogers. We built a Dune Buggy in the first episode powered by a Yamaha 750cc motorbike engine and raced it around a massive sand quarry in Leighton Buzzard where they filmed 'The Mummy'. We were the first team in 10 years of the series to build a car from scratch within the allowed time and drive it round to the opposition's garage before the final buzzer went on build day! Other episodes were 'Snow Shifters' where we built a snow plough, once again using a bike engine strapped to the front of a Suzuki Jeep and raced up the indoor ski slope at Milton Keynes, and in the final it was 'Tow Tugs' where we converted a Ford Cargo 16 Tonne Truck into a 4×4 tow vehicle to tow a 700 tonne Jumbo Jet down a runway at the airfield they used when filming Top Gear.
Best business advice you've ever received?
I first heard this phrase from a fellow MAG Director and is one that I keep reminding myself of: "In business you can choose to be popular or effective, I choose effective."