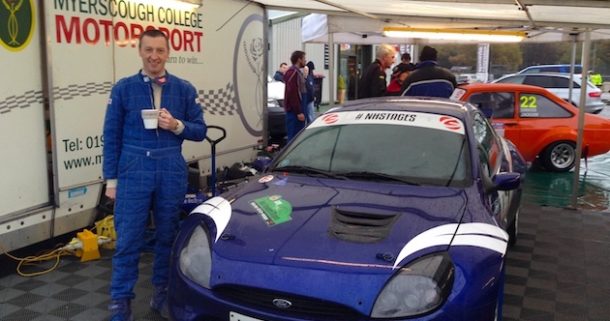 In the Driving Seat: Wes Jacklin, Senior Director, Halewood Transmission Plant, Getrag Ford Transmissions
Wes Jacklin has recently become the Chairman of the Directors and Advisory Board for the NAA, so here's your chance to find out more about Wes, who doesn't appear to sit on the sofa in his spare time, as his interests include rallying, track racing, mountain biking, mountaineering and skiing… Read more
Name
Wes Jacklin
Company
Getrag Ford Transmissions, a joint venture between Magna and Ford Motor Company Ltd
Position
Senior Director, Halewood Transmission Plant
Apart from that
Chairman of the NAA
Association with the NAA
I first joined the NAA community in 2011 when I was in the position of Production Director at Halewood Transmission Plant
Why did you join the NAA?
The automotive industry is a challenging environment with high customer expectations, important regulatory requirements and hugely cost competitive.  Large global companies have the ability to share experiences across their sites to meet these challenges. The strength of the NAA is in bringing together a wide variety of businesses to share ideas. Large companies can always learn something new by networking with other external organisations and in exchange they can add value to the region by sharing their experience with smaller businesses. The NAA is also an invaluable source of knowledge and support to companies seeking to gain funding for innovative new projects.
Personal
I have been fortunate enough to enjoy a varied career with Ford and Getrag experiencing Product Development, Business office, Vehicle Operations and Powertrain Manufacturing assignments. There have been some fabulous life experiences along the way living in the USA, Germany and most recently Slovakia. I'm married with a 6 year old son and 8 year old daughter, we are a pretty active family and enjoy mountain biking, mountaineering and skiing. My greatest passion though is motorsport, mainly tarmac rallying, building and running my own cars for the last 25 years. Now that free time is a bit scarce I've been 'domesticated' and become a circuit driver, enjoying track days with a group of friends in our Caterham R300 race cars. The highlights of the season have been the Hungaroring and more recently Spa.
Favourite football team
I'm more interested in motorsport, despite my 6 year old son's efforts to educate me on the Premier League with his football cards
Musical performer
Very varied tastes from Arctic Monkeys to Depeche Mode
Movie
Pulp Fiction or for lighter entertainment any Adam Sandler film
Books
Lee Child's Jack Reacher books, there's plenty of them to read.
Best motoring moment
Difficult to choose, there's a few. As a Ford student, sitting next to Gwyndaf Evans for a lap of the Boreham test track in a Works Sierra Cosworth rally car, I was hooked for life. Road trip through Romania over the Transfaragasan and Transalpina passes in my Lotus Elise.
Best business advice you've ever received?
It's the effort that you put in while things are going well that makes the difference, everyone will be busy when things go wrong!