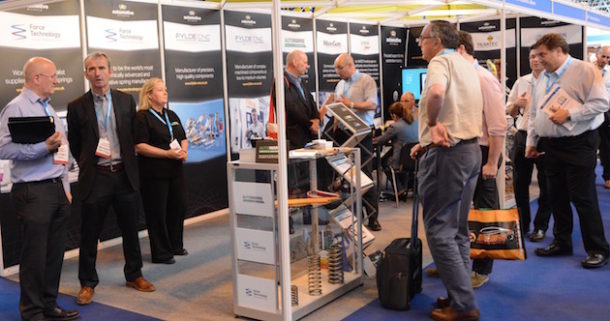 Event review: Automechanika Birmingham and SMMT Open Forum
Automechanika took place for the first time at Birmingham's NEC from 7-9 June 2016, and the NAA had a stand at the event showcasing Force Technology, Fylde CNC, Erlson Precision Components, Auto Marine Cables, Tilsatec, Wilson Gunn and the STRIVE project. As well as incorporating more of a supply chain focus rather than just purely aftermarket, Automechanika also included SMMT Open Forum, which was of interest to suppliers wanting to work with Aston Martin…
Commenting on taking part on the NAA at the event, Sue Kenyon, Sales Development Director, Auto Marine Cables Ltd, said: "Exhibiting with the NAA at the first Birmingham Automechanika proved to be a very positive experience. We received enthusiastic support and advice from Carol and her team throughout the show. The stand was ready for us when we arrived on the Tuesday morning, and there was a real feeling of working together to get the best results for everyone. We returned from the event with new leads and new friends!"
Automechanika also featured the SMMT Open Forum on the first day, and Meet the Buyer on the second day.
A number of speakers presented at the SMMT Open Forum, including Andy Palmer, CEO of Aston Martin. Aston Martin has had a very low profile at industry events over recent years, but all that has changed with the arrival of Andy.
In typically entertaining fashion, Andy gave an update on Aston Martin, and talked about one of Aston's greatest assets – a cool brand. However that hasn't been enough to create financial sustainability for the company over the years – something that Andy is looking to change, with a plan to turn 'a great brand into a great business'.
One of the key foundations of his plan is targeting high net worth customers around the world – a segment of the market that's growing rapidly, and mostly outside Europe, in locations such as South East Asia. The car that's due to kick-start all this is the DB11. Then in a few years' time it's the turn of the DBX – the firm's first-ever luxury crossover GT, which will be built at a new factory in South Wales. The first prototypes are due to be ready in 2018.
In around six years' time, Aston should have a line-up of seven models, which Andy described as giving the company 'the tempo of a normal car company' – referring to the new model introduction cycles of a company such as Nissan, where Andy spent much of his previous career. With a 'big product action' planned every nine months or so, Aston needs a world-class supply network, so there should be plenty of opportunity for UK supply chain companies to engage in dialogue with Aston Martin – but the time to start such dialogue is now.
Andy said that some (large) suppliers aren't interested in working with Aston Martin because the volumes are so low, which represents an excellent opportunity for UK supply base companies.