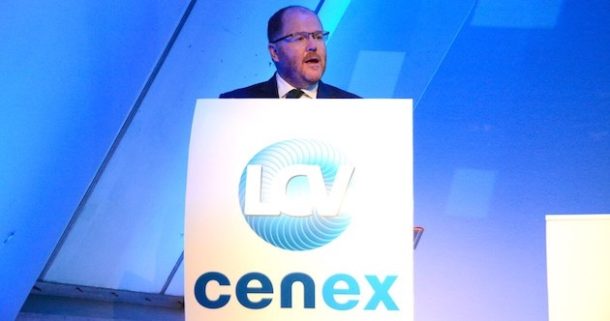 Event Review: Cenex LCV 2019 – Disruptive Low Carbon Vehicle Technology, The Opportunities For UK Automotive
The Cenex Low Carbon Vehicle (LCV) Event 2019 showed that, against the background of various challenges for the automotive industry, the development of technology for low carbon and connected & autonomous vehicles in the UK is thriving…
With 6,000 visitors registered, the two-day LCV event demonstrated that it's the show to attend if you work in the low carbon vehicle industry – or if you want to enter the sector. This year there was a huge variety of seminar sessions, over 250 exhibitors, and more than 70 vehicles either on display or available for ride & drives. However it's the opportunity for the extensive networking with leading members of the low carbon vehicle community that is the real unique selling point of this event.
FULL SPEED AHEAD TO 21ST CENTURY TRANSPORT: THE MINISTER OF STATE FOR THE FUTURE OF TRANSPORT
Amazingly, event organiser Cenex managed to secure the attendance of a government Minister – right in the middle of the latest chaotic Brexit developments in Westminster. George Freeman MP has the impressive-sounding job title of 'Minister of State for the Future of Transport' and he explained that his role was to provide leadership for 21st Century transport. He also reminded any members of the audience who hadn't been keeping up with the news that we live in 'volatile and disruptive times', and explained about the '3 D's' that are guiding his work: Disconnection, Decarbonisation and Digitalisation.
The first 'D' refers to disconnection in a number of areas, including between people and politics, between different government agencies, and within the transport system: these areas need to be joined up. Decarbonisation means that we need to have a cleaner, integrated transport system. And digitalisation will enable smart transport.
The overall message was that the government aims to continue supporting the growth of the low carbon vehicle and CAV communities through facilitating large companies to work with the supply chain, through organisations such as Innovate UK and the Advanced Propulsion Centre.
HOW ARE WE DOING ON THE ROAD TO ZERO? MIKE HAWES, SMMT
Mike Hawes, Chief Executive of the Society of Motor Manufacturers and Traders (SMMT), provided an overview about where the automotive industry is in terms of delivering the government's Road to Zero. Mike agreed with the Minister that we're in the process of changing to an increasingly disruptive environment, but the UK, with its strong manufacturing base and leading research & development, is in a good position to grasp the opportunities.
Mike said that the industry has "bet the farm" on electrification. However, despite long-term CO2 reductions from new cars, there has recently been an increase, due to the shift away from diesel and because of the move from small family cars to less efficient SUVs.
Looking ahead, the Road to Zero sets out an ambition for the end of the sale of conventional petrol and diesel cars by 2040. We're already seeing more EVs come to market: there are around 50 EVs on sale now, and this is due to rise to around 200 over the next 12 months. Yet sales of pure EVs in the UK are still less than 1% of total new car sales.
Mike claimed that driving range was still the biggest concern for most people considering making the switch to EVs. Although the driving range of most EVs on the market is perfectly adequate for most daily driving, people still want the reassurance of a longer range. And range anxiety is linked to charging anxiety. Although 80% of EV owners charge at home, and there are now over 20,000 charge points in the UK, we still need more public chargers, and we need to get the right chargers in the right places. This means fast chargers on motorways, and slower chargers where people have a longer dwell time.
Aside from range, despite battery prices coming down, EVs are still more expensive than equivalent conventional cars. Although the plug-in car grant exists in the UK, it has been reduced, and it's currently due to run out in April 2020. Incentives in Norway mean that a Tesla Model S is a similar price to a Volkswagen Golf; we need continued financial incentives in the UK.
Mike also made the point that we need four battery giga factories in the UK to maintain current levels of car production – although just one to start would be good. But we need an attractive investment environment in the UK to convince companies to build here – and that's something that we certainly don't have thanks to Brexit.
A NEW UK BATTERY MANUFACTURER: WILLIAMS ADVANCED ENGINEERING
On the subject of battery manufacturing, a new facility to do this was launched last year in the Midlands by Hyperbat, a joint venture between Williams and Unipart to become a Tier 1 battery supplier. So far 80-90 jobs have been created, and the first customer is Aston Martin, with the batteries being produced for the Rapide E.
Williams Advanced Engineering was an exhibitor at LCV, and a new innovation on display was a battery with two different types of cell within it. Traditionally you can have a battery with high energy storage, or one with high power density, but Williams has developed a battery that has both.
The battery is ideal for motorsport, and high end niche vehicles – but it would also be applicable for automotive drive cycles, where sustained high power isn't required all of the time, however this technology won't be appearing on a mainstream passenger car near you in the imminent future.
The new battery pack will initially be manufactured in relatively low volumes. Paul McNamara, Technical Director at Williams Advanced Engineering, says that it's really important to engineer and manufacture battery cells in the UK to avoid having to import such technology. He also believes that Lithium Ion chemistry offers the best balance at the moment (new battery technologies are likely to take 15-20 years from academic research to commercialisation), and alternatives to the rare earth metals in batteries will be found.
Williams is the powertrain partner, which includes battery supply, for the Lotus Evija, which, with 2,000 PS and 1,700 Nm of torque, should be an interesting car to drive.
COULD RANGE EXTENDED EVS MAKE A COMEBACK?
Delta Motorsport is a regular exhibitor at Cenex LCV events, but this year the company celebrated its 10th anniversary with a significantly enhanced presence and some eye catching new technology. Having previously demonstrated a turbine range extender, Delta has now developed a catalytic generator. This can easily be adapted to use a wide range of fuels including petrol, diesel and hydrogen. The catalytic process results in near zero tailpipe emissions of NOx and Particulate Matter whilst producing 35 kW of power in a device weighing just 50 kg. The entire system requires no lubrication and produces no vibrations making it ideal as a range extender.
The reason that Delta is continuing its interest in range extender applications, when vehicle manufacturers seem to be backing away, is that it believes in an electric future, but doesn't think ever larger capacity battery packs are the answer. By providing shorter battery ranges that will cover the majority of daily journeys with clean range extender support thereafter, the financial cost, weight, and environmental impact of manufacturing a car can be reduced. With fewer battery cells per car, supply chain issues currently being faced would be reduced, whilst simultaneously delivering more EVs on the road more quickly.
Delta believes that a refocusing on electric miles driven combined with more robust life cycle analysis would lead more manufacturers, and governments, to reconsider range extended EVs as a viable alternative. We happen to agree.
WHAT'S THE FUTURE FOR ENGINES?
Of course if we're going to keep using engines we need to ensure that they get more efficient and use lower carbon fuels. Talking to a range of consultancies revealed several who reported little interest from car manufacturers in advanced engines, but one of the biggest players, Ricardo, remains bullish about the potential gains. Pointing out that engines will play a significant role for the foreseeable future, the company is actively working on next generation petrol engines with significant efficiency gains with multiple applications including hybridisation and range extender.
Ricardo is also at the forefront of electric drivetrain and battery development including innovative gearbox designs such as a 3-speed DCT 'box which would allow downsizing of the battery pack and right sizing electric motors which removes weight and cost from the vehicle.
AND WHAT ABOUT FUELS?
As for low carbon fuels, there remain significant barriers to the commercialisation of drop-in alternatives at significant scale, but the potential is obvious. With around 99% of cars currently using fossil fuels, the potential for rapid decarbonisation is either reliant on removing these vehicles from the road or removing the carbon emissions from the fuel. To illustrate the point, the current blending of around 5% bio content in petrol is equivalent to removing around 1 million cars from the road. Whilst the challenges are significant we were advised that the scale of the opportunity for anyone who cracks the issue is enough for fuel producers to be actively engaged in the search. Heavy goods vehicles have always been seen as an area that is hard to crack with electrification, ULEMCo had a solution in the form of a hydrogen-fuelled HGV.
Of course electricity is going to play a significant role going forward, so it's great to see that products that we have reported on in previous years as 'under development' are now appearing in the real world. The two most significant areas of progress in EV charging are ultra-rapid chargers with power outputs of between 150 – 350 kW which are now beginning to appear in dedicated hub facilities, and the adoption of bank card payments at rapid and ultra-rapid chargers, which is required on all new rapid charge points from April 2020. In combination these two developments will make long range EV driving far more convenient for all users and much quicker for anyone with a next generation EV that accepts ultra-rapid charging rates. We think bank card payments and sub-20 minute recharging times at dedicated hub facilities are essential to move the EV market into the mainstream, with 2020 being a pivotal year with a flood of new EVs coming to market.
WHY AREN'T MORE PEOPLE BUYING EVS?
In addition to the wide range of exhibitors, there was an extensive seminar programme at LCV. As well as debating specific subjects, the seminars provide the opportunity to disseminate results from industry projects. One such project being presented this year was Consumers, Vehicles and Energy Integration (CVEI), funded by the Energy Technologies Institute (ETI), involving trials of electric vehicles and research about mainstream consumer charging behaviours, presented by George Beard and Neale Kinnear from TRL (Transport Research Laboratory).
The project aim was to understand consumer attitudes towards electric vehicles, and it involved trialling EVs with 'mainstream' motorists, in other words, people who previously hadn't considered driving an EV. One element of the project looked at whether they would adopt an EV following the trial. The range of the EV was a big factor in such a decision.
When pure EVs have a range of 200 miles, then 50% of participants on the trial would consider an EV as a first car (although it's worth noting that most EVs on the market now have a range of 200 miles, yet pure EV sales are less than 1% of all new car sales). When the range reaches 300 miles, then 90% of the 'mainstream market' would consider an EV as a first car (there are now increasing numbers of cars on the market that have a range of around 300 miles or more). The project also found that more people are likely to buy an EV if it's a second car.
Based on the above, range can't be the only main barrier to buying an EV, and the project found that financial incentives are also important to reduce the upfront cost of EVs. And then there's charging – if the public charging network had chargers every 20 miles on motorways and A-roads, then people would be more likely to adopt EVs. And the findings also reinforced something that Green Car Guide has been saying for years – much better signage of EV charge points is needed, to give EV drivers, and prospective EV drivers, the reassurance that there lots of chargers around.
The project also looked at home smart charging, and the findings were similar to those from the Electric Nation project: the issue of lots of EVs charging at peak times can be solved by smart charging, ie. moving the charging time from the 6pm peak to the middle of the night, but the financial incentive of a cheaper electricity tariff is needed to achieve this, and also an app – but any app needs to be simple.
THE NAA FAST STEP 3 TITANIUM PROJECT
Carol Holden from the NAA also presented at LCV about the FAST STEP 3 (FS3) project. The project aims to take Titanium Swarf to Engine Components in three steps. The FAST STEP 3 consortium is comprised of Force Technology Ltd, the Northern Automotive Alliance, The University of Sheffield, Transition International, W.H. Tildesley and Bentley Motors. Carol explained that the UK makes a lot of titanium swarf, which is effectively a low-value waste product. FAST (Field Assisted Sintering Technology) offers the opportunity to revalue that product. So far the project has found that the swarf/chips/turnings from a variety of machining processes are a viable feedstock for FAST. Find out more at: http://northernautoalliance.com/projects/fast-step-3/
THE FUTURE
There were a LOT more low carbon vehicle developments at LCV 2019 than we have space to report on here, never mind all the connected and autonomous vehicle technology, and the event is growing each time, so goodness knows what will be there next year. Change in the low carbon automotive industry is happening very quickly; if you want to know what's coming in the future, make sure you attend LCV 2020.
Paul Clarke & Andrew Leadbetter Source: https://www.greencarguide.co.uk/features/disruptive-low-carbon-vehicle-technology-the-opportunities-for-uk-automotive/