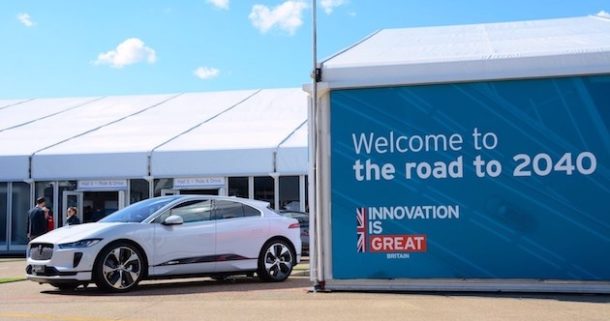 Event Review: Cenex LCV2018 – Collaboration is Key
Cenex-LCV2018, which took place at Millbrook Proving Ground on 12-13 September, featured displays of the latest low emission vehicle technology, a range of vehicles to drive, and an extensive conference agenda – as well as hosting day two of the Prime Minister's Zero Emission Vehicle Summit. …
So what was the key message for 2018?: Change is happening quickly, there are significant opportunities for UK automotive supply chain companies, but collaboration is key.
This message was echoed by the Rt Hon Richard Harrington, Parliamentary Under Secretary of State, Industry & Energy, who opened the LCV2018 event with a keynote speech in which he stressed the importance of industry-government partnership – as promoted in the Industrial Strategy. Richard Harrington also highlighted the government's significant investment in research & development in the low emission vehicle sector.
Since the first Cenex Low Carbon Vehicle (LCV) event in 2008, we've progressed from an aspiration for low carbon vehicles, to ultra-low emission vehicles, and now zero emission vehicles. And one of the new organisations at LCV2018 was Meridian, bringing together government, academia, innovators and developers of intelligent mobility solutions – ie. connected and autonomous vehicles – in collaborative partnerships. To achieve the vision of sustainable mobility – whether it relates to electric vehicles, autonomous vehicles, or some other element of the ecosystem – collaboration is essential – and not just between a range of different organisations in the UK, but also globally.
Therefore it was interesting timing that at the Zero Emission Vehicle Summit on the day before LCV2018, Dr. Ralf Speth, CEO of Jaguar Land Rover, said that companies such as JLR can't do everything alone, and that it needs to work together with a range of partners – as well as warning that the 'wrong Brexit' would potentially damage JLR's investment in electric vehicles.
Although Jaguar didn't have an official presence at LCV2018, there were many I-PACEs on display around the event, one of the many signs that manufacturers are now getting serious about (desirable) electric cars. So apart from static displays of the I-PACE, amongst the hundreds of exhibitors, seminars and vehicles at LCV2018, what were the other highlights?
BATTERIES
One of the comparatively recent realisations in the UK has been that we need to start manufacturing batteries for EVs. Apart from the obvious economic benefits, batteries are big and heavy and therefore aren't ideal to transport around the world to install in vehicles in the UK. Therefore the Faraday Battery Challenge is offering funding support (£246 million over four years) to assist companies in the UK to develop new battery technologies.
Hyperbat was launched at the LCV2018 event; a collaboration between Williams Advanced Engineering and Unipart, the new battery manufacturer will produce advanced batteries right here in the UK. With a new factory opening in Coventry next year and the first customer confirmed as Aston Martin, this is a concrete demonstration of the UK's ability to be at the forefront of the expanding EV market. Hyperbat is the result of an Advanced Propulsion Centre-funded project which Williams led in 2017. Just two years later, in 2019, the first batteries from the new factory will power the Aston Martin Rapide E which marks the brand's entry into the EV market. Initially limited to 155 cars, the Rapide E is a prelude to Aston's ambitions to relaunch the Lagonda brand with electric power.
New UK government funding is now also available to develop other EV components such as electric motors and power electronics.
LIGHTWEIGHTING
The car industry has been talking about lightweighting for years, and there has been some progress, with many new models being lighter than the ones they replace. However it would still be a stretch to call most new cars 'light'. The reason that light weight is so important is that it's the key solution to the seemingly opposing requirements of making cars more efficient whilst also making them more fun to drive. So here at Green Car Guide we're massively supportive of any companies that are trying to accelerate the pace of change in this area.
The company with probably the strongest claim to be the flag waver for lightweighting is Gordon Murray Design, with Gordon Murray himself having championed this strategy his whole life. The fact that GMD can also tell you how to set up your car factory, as well as how to make the actual car work, puts it in a very select category of companies that could have a genuinely revolutionary effect on the cars we drive. The iStream, iStream Carbon (as used by TVR) and iStream Superlight processes are available for any manufacturer to adopt and allow you to build anything from a city car to a van, but we have to say we're particularly keen on someone building the Superlight sports car variant which can result in a coupe weighing only 850 kg.
Over 20 collaborative innovation projects were successful in receiving a total of £3m grant funding from the Niche Vehicle Network (NVN), most in the area of powertrain electrification and weight reduction as an enabler to increasing electric vehicle range. There were a number of interesting vehicles on the NVN stand, including an Ariel Nomad with lightweight wiring developed by Potenza, and a CCM motorbike with a lightweight frame.
Carbon fibre supply chain company Sigmatex has also been successful in gaining new funding to develop lightweight composite solutions for electric cars as part of the APC10 competition. The ARCS (Affordable High Rate Composite Structures) project seeks to develop a high-volume, low-cost carbon fibre textile and material handling process. New methods will simplify the production process, while drastically increasing the rate of production and productivity. The project addresses the application of affordable lightweight technologies needed to make the transition from conventional components to next generation lightweight solutions. In addition to strengthening the UK's supply chain, the technology developed will position the country as a global leader in lightweighting technology.
ELECTRIC CARS
We know that electric cars are the future, and that they're here now. Apart from various Jaguar I-PACEs on static display at LCV2018, Volkswagen had the e-Golf available for Ride & Drive; Toyota had the Prius Plug-in and the hydrogen fuel cell Mirai – as well as the Prius and C-HR hybrids; Mitsubishi had the 2019 Outlander PHEV (only officially launched in the UK the previous week); and Ford had a number of low emission models including the Mondeo Hybrid. LEVC was also present with its TX electric taxi.
ELECTRIC VANS
It's not just about electric cars; there were increasing numbers of electric vans on display this year. As well as the plug-in hybrid Ford Transit, there was also the all-electric Iveco Daily, which is now available, and you can choose between specifying a vehicle with either one, two or three batteries, giving driving ranges between 100 to 174 miles, with varying body styles (including van, chassis cab and minibus) and payloads (up to 5.6 tonnes gross weight), and a resulting cost ranging between around £75,000 to £125,000. This may sound expensive compared to a diesel van, but as more ultra-low emission and zero emission zones appear around the UK, sales of electric vans will go up and prices will go down.
LOW EMISSION TRUCKS
Despite Elon Musk's promise of an electric truck with a 600 mile driving range and acceleration to outpace a sports car, such technology isn't on sale yet, but there are various low emission truck technologies, which the Low Carbon Vehicle Partnership (LowCVP) was showcasing at LCV2018. The LowCVP is also working through all the policy details behind low emission trucks, such as what is a low emission truck, and what is the testing regime for one.
LIFE CYCLE ASSESSMENT OF EVS & BATTERIES
At the LCV2018 event, the LowCVP released details of a report about Life Cycle Assessment research, concluding that matching battery size with vehicle use is crucial for the environment. Well-to-wheel CO2 equivalent emissions of current electric vehicles are already significantly lower (40-60%) as a proportion of full life-time emissions than those of typical current passenger cars (70-85%) and this difference can increase as the electricity grid becomes increasingly decarbonised. However, the report concludes that if a race for bigger and bigger batteries is left unchecked, EVs doing low mileages could undermine some of the potential benefits.
MAKING GREEN CARS BETTER TO DRIVE: STEERING
Despite what the car-buying public might think, it's the automotive supply chain companies rather than the car manufacturers that typically come up with the innovative engineering solutions. One issue that's particularly close to our hearts is electric power steering. It's now common across the industry because it's more efficient than hydraulic systems, but the problem is that it masks steering feeling. Led by Randle Engineering Solutions, a small band of engineers has come up with a new design for a steering system which provides the feel of a non-assisted rack with the benefits of an electrically assisted system. If it does what it says on the tin, we really hope it gets commercialised. Also, full marks for style for getting a McLaren as the development car.
HYBRIDS AND OIL
It's clear that the future of the car market is electric, but there are also 'self-charging' hybrids (the ones you don't plug in). What these have in common with plug-in hybrids is some form of conventional power, and that generally means a petrol engine. Whilst hybrid systems have come on leaps and bounds in recent years, it can be easy to overlook the less glamorous bits of the drivetrain. One example is oil, but luckily Nexcel has that covered. The company's race-proven system delivers a sealed box the size of a 12v battery, which contains all the oil. It has several benefits including the ability to do oil changes in around 90 seconds rather than up to 40 minutes on the likes of a Toyota Prius, and the absence of any mess or used oil finding its way down the drain, which can be an issue in developing markets. Perhaps the biggest selling point for manufacturers is the ability of the system to knock 2g/km off the official CO2 rating as a result of the system allowing the engine to only heat up the oil it needs, speeding up engine warm up.
EV CHARGING
Thankfully, companies are also getting serious about EV charging as well as about EVs. As is the case every year at LCV, charge point companies were in abundance. Apart from smart charging (as trialled by the Electric Nation project) being mandated as part of the government's Automated and Electric Vehicles Bill, the recent big news in the industry is that, not to be outdone by Shell's purchase of NewMotion, BP has acquired Chargemaster, which includes POLAR, the UK's biggest charging network with more than 6,500 charge points. This is a significant vote of confidence in the EV market, and in the short term will mean the roll out of POLAR charge points at larger BP fuelling stations.
SUMMARY
The automotive industry used to be relatively standalone. With the appearance of electric cars, the automotive industry has had to work with the energy industry. With the appearance of autonomous vehicles, it has had to work with a wide range of other sectors, including IT, data and the built environment, to name just a few. The Cenex LCV2018 event featured a range of companies that are developing solutions to give us lower emission vehicles, but only by collaborating will they be able to get their ideas adopted widely. But how do such companies collaborate? Attending the LCV event has to be at the top of the list – every year this is the place where all the key players in the UK low emission vehicle industry come together to network and make progress happen. Everyone will now be hoping that UK low emission vehicle progress can continue unhindered post-Brexit at LCV2019.
Paul Clarke
See the full article with images here: https://www.greencarguide.co.uk/features/cenex-lcv2018-event-review-collaboration-is-key/