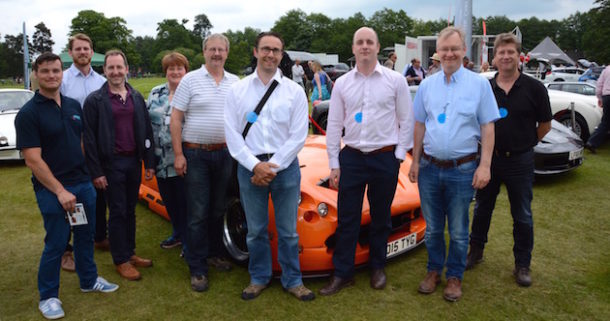 Event review: Cholmondeley Power & Speed 2016
The NAA, Helical Technology and Automotive Comms shared a hospitality table at Cholmondeley Power and Speed, which took place from 10-12 June 2016. Helical's customers and prospective NAA members were hosted at the event, which featured a wide variety of vehicles competing on the sprint circuit in the grounds of Cholmondeley Castle in Cheshire – and there was even a static display of Helical Technology's very own TVR Speed 12…
The unique TVR Speed 12 features a V12 engine and acts as a technology demonstrator for Helical, a company which specialises in manufacturing acoustic and EGR exhaust valves for many of the world's premium and supercar brands. The TVR Speed 12 attracted crowds throughout the event – and especially when it was fired up.
Cholmondeley Power and Speed has great potential to offer an equal spectacle to that of the Goodwood Festival of Speed, but for a Northern audience. The circuit is more technically demanding than Goodwood, and is a great test for how the cars that people are considering buying will perform in real-life driving conditions such as on twisting Welsh B-roads.
The fastest cars on the circuit are not the most powerful ons, but instead are the cars that are light, agile and efficient, such as the North West's BAC Mono. Although the Mono, with Oliver Webb at the wheel, posted some excellent times again this year, the ultimate winner was the Ariel Atom 3.5, driven by Niki Faulkner, which achieved the fastest lap of the weekend with a time of 60.98 seconds.
The theme of this year's Cholmondeley event was 'Supercars, Past and Present', featuring icons such as the Ferrari FXX, historic supercars such as the Ferrari Daytona and Lamborghini Countach, and there was also a new Gumball Rally class which included cars such as a Mercedes AMG GT3.
However the most spectacular and entertaining cars were the rally cars, which were consistently driven flat-out and mostly sideways through the corners. And there's more good news on this front – Cholmondeley is to host a half-term family-friendly RallyFest stage on Saturday 29 October as part of the Dayinsure Wales Rally GB (27-30 October 2016).
Cholmondeley Power and Speed ran over three days, with Motorshow Live! taking place on the Friday, allowing manufacturers and dealers to offer test drives of their latest models on the track to guests and VIPs.
The potential for Cholmondeley Power and Speed is demonstrated by the Goodwood Festival of Speed, which features a wide range of some of the latest and most crowd-pulling cars on the planet, most of which are driven up the hill in a way to delight the crowds. Goodwood seems to get busier and busier each year, with masses of hospitality, creating an amazing atmosphere, however there are so many people that the average visitor can't get near the track to see the cars in action – and Goodwood is a five hour drive from the North of England.
Therefore Cholmondeley has a unique opportunity to divert people from the North and the Midlands to attend its event rather than Goodwood – so swelling crowd numbers at Cholmondeley and relieving the strain of crowd numbers at Goodwood. To do so, Cholmondeley needs the most fresh, crowd-pulling supercars, race and rally cars, drivers who want to entertain the crowds, and effective marketing.