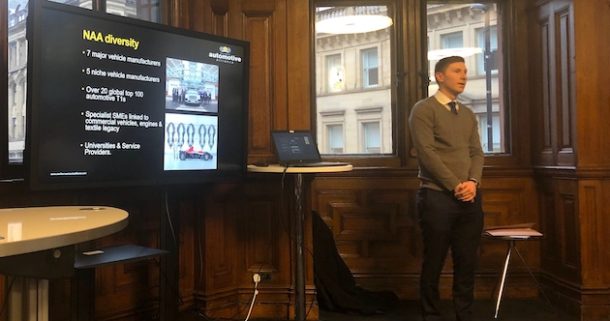 Event Review: NAA presents at Greater Manchester Chamber of Commerce Engineering & Manufacturing Review
Rowan Egan, NAA CEO, presented at the Greater Manchester Chamber of Commerce Engineering & Manufacturing Review on 10 January 2019 about the business opportunities in the automotive industry as we move to electric vehicles…
Rowan presented with Paul Clarke from Automotive Comms and Green Car Guide, explaining the drivers behind the move to electric vehicles, the new EVs that are due to be coming to market in the next few years, and the opportunities in the supply chain for engineering and manufacturing companies – as well as for new entrants from other sectors.
The NAA's presentation at the Greater Manchester Chamber of Commerce event is part of a move for the NAA to collaborate with other organisations in the region in order to accelerate the move to lower emission transport.
Mo Isap (IN4.0) was another speaker at the event, talking about the Industry 4.0 'Regional Manufacturing Accelerator' joint venture with UCLan. Mo made the point that it's now as expensive to manufacture in China as the US, so there's an opportunity to reshore manufacturing, and for the UK, and the North West region, to gain advantage through technology.
Mark Whiteley from CRS discussed 2019 Risk Sectors, Profitability & Payment, mentioning that there were record insolvencies in China last year – as well as in Scandinavia.
There was interactive voting at the event on a number of issuing including Brexit. In response to the question "Do you think that Brexit will have a negative impact on your business", 12 delegates at the event said yes, 6 said no, 3 said it would have no impact, and 12 said they didn't know.
The one thing that everyone seemed to be in agreement about was that Brexit is causing uncertainty, and markets – and therefore investors – dislike uncertainty.