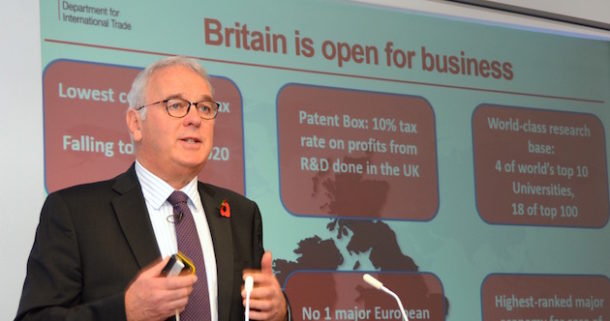 Event Review: SMMT Open Forum – the impact of Brexit on the UK automotive industry
How will Brexit impact upon the UK automotive industry? And what did the Prime Minister say to Nissan to get them to stay – and expand production – in the UK? Find out the view on all this and more from the SMMT Open Forum…
November 2016's SMMT Open Forum was opened by Chief Executive Mike Hawes. According to Mike, currently almost all questions from the media on any aspect of the UK car industry focus on Brexit. Mike's summary of where we are at the moment was that the UK economy is in relatively good health, and the automotive sector is strong. Just under 1.6 million vehicles are being produced, due to investment decisions taken 3-4 years ago. UK productivity is at a 16-year high and the UK is the most productive place in Europe to make cars; the flexibility of the workforce is a key element in this. The UK car industry is deeply embedded in the European automotive supply chain, and talent in the industry moves across borders.
However since Brexit we have entered a period of uncertainty, and businesses and investors don't like uncertainty. It is likely to be more of a challenge to maintain the attractiveness of diverting production to the UK if prices go up due to fluctuations in exchange rates.
So, against this background, how did the government convince Nissan to retain production of the Qashqai and to introduce manufacture of the X-Trail in the UK? Was a guarantee given? It has been reported that Prime Minister Theresa May said to Nissan that there was no guarantee, just the assurance that the government is committed to creating and supporting the right conditions for the automotive industry to continue to grow, and that it wants tariff-free access going forward.
Following the Brexit vote, there will now be the development of an industrial strategy by the government. Three key areas that such a strategy must support are electric, connected and autonomous vehicles.
Konstanze Scharring, Director of Policy, SMMT, provided more detail about Brexit and the Industrial Strategy. She highlighted that the government will publish its Autumn Statement on 23 November 2016. It is expected that this will be an opportunity for the government to demonstrate its vision for a post-Brexit nation. It is assumed that a business environment will be developed to support the areas that Mike mentioned, ie. low emission, connected and autonomous vehicles, along with the development of the supply chain. But will there be a sector focus or a regional focus? How will it support growth to improve international competitiveness? Konstanze stated that there must be continued investment in technology and skills, along with more exporting, and the removal of trade barriers such as tariffs.
The SMMT has its own list of priorities from the Brexit process, in particular continued access to the single market, along with guaranteed access to talent across Europe – despite many EU officials believing that such benefits should disappear along with Britain's EU membership.
How Britain will develop its international trade after Brexit was discussed by Mike Wright, Chair, Automotive Investment Organisation (AIO), who talked about the AIO's investment and trade strategy. Mike explained how the AIO now sits in the new Department for International Trade. Mike's team, headed by Lawrence Davies, talks to investors all over the world about the UK.
Ian Henry, Owner, AutoAnalysis, and author of SMMT's Production Outlook report, offered his views on European vehicle production post-Brexit. Ian started off by saying that any fears about immediate meltdown after the referendum were misplaced. He said that JLR is going about "business as usual", and the Nissan announcement about the Qashqai and the X-Trail came as a (welcome) surprise in terms of timing. JLR was said to be benefitting from the continued switch by consumers to premium brands and crossovers/SUVs, as well as electric cars – so how appropriate that, soon after the Open Forum, JLR announced its all-electric I-PACE crossover.
Ian said that the government has recognised that the automotive industry is a strong growth sector for the UK economy, but that we have a significant trade gap, especially in terms of components, with imports of £55bn but exports of only £36bn, reflecting average UK content of around 40-41%. The government says that it wants to grow the amount of UK content in vehicles, and Ian appeared to throw this challenge to Lawrence Davies at the AIO! (the AIO has already achieved impressive targets with building UK supply chain capability over the last few years).
Other challenges include that there are few significant Tier 1s in the UK, and very few EV suppliers – we urgently need to build this supply chain in the UK: this represents an opportunity for supply chain companies such as many members of the Northern Automotive Alliance.
Further speakers included Michael Mychajluk, Supply Chain and External Engagement Manager, Jaguar Land Rover, and Chris Owen, Chief Executive, SMMT Industry Forum Ltd. Both gave a similar message: to benefit successfully from the current opportunities in the UK automotive industry there is one key measurement that all companies must excel at: competitiveness. The NAA has an excellent track record of helping companies to become more competitive over recent years, so any ambitious supply chain companies in the North West and Yorkshire & Humber should speak to NAA Chief Executive Carol Holden to find out how the NAA can help.