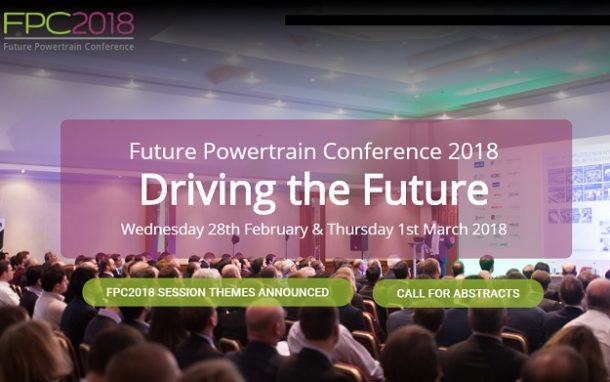 Future Powertrain Conference (FPC2018) call for abstracts
We are pleased to announce that the call for abstracts for this conference is now OPEN.
We ask PhD students, early career researchers, researchers from academia and industry, and senior engineers & scientists to respond. The Scientific Advisory Board will be looking for a balance between industrial & academic, and experienced & newcomers, and are particularly looking for speakers who can offer either a unique or new insight that could significantly affect either their field or the automotive industry as a whole, or who alongside presenting their work can also offer a broad perspective for the next ten years based upon significant experience. When choosing speakers our primary goal will be to offer ideas to the audience which will stimulate interesting discussions.
Therefore please submit a half to one page abstract detailing the work you wish to present, and a brief description of yourself and why you should present according to the criteria above, through the online "Call for Abstracts" submission form at the conference website: http://futurepowertrains.co.uk by Monday 25th September 2017 selecting from the list of session themes and indicating your preference for an oral or poster presentation.
Sessions 2018
Fuel Cells, Hydrogen & Artificial Fuels
Off-road & Heavy Duty
Emissions, Drive cycles & After-treatment
The Future of ICE
Transportation Systems & Infrastructure
Power Electronics & Electrical Machines
Autonomous Vehicles & ADAS
Battery Technology
Electrified Powertrains,Hybrids & 48v
Electric Vehicles
For more information, please visit the conference website  http://futurepowertrains.co.uk or contact Lynda@futurepowertrains.co.uk
Registration for this Conference will open in October