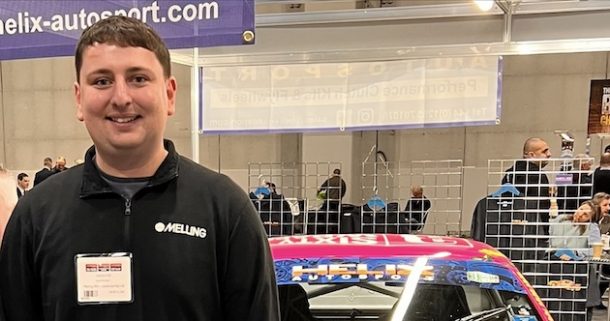 In the Driving Seat: James Hall, Melling Performance Springs
If you want advice about quad biking on sand dunes in Dubai, James Hall is the person to ask…
Name
James Hall
Company
Melling Performance Springs
Position
Sales Manager
Apart from that
I used to help manage my previous football team's youth squad. Having played for the team for 15 years, I couldn't just walk away.
Association with NAA
I have been familiar with the NAA since starting work at Performance Springs as an apprentice. My first real interest in the spring industry was while working on the TWISTER Project (TITANIUM WIRE FOR INNOVATIVE SPRING TECHNOLOGIES AND EMISSIONS REDUCTION) – Performance Springs was an engineering-driven spring manufacturer, standing for innovation, quality and technical excellence. Specialists in the design, development, manufacture and testing of high duty, high fatigue and precision compression springs, the company is a market leader in the fields of fuel injection, engine valve spring and hydraulics. Our role as project leader was to develop and produce testing wire into springs!
Why did you join the NAA?
I joined the NAA with Melling Performance Springs to meet like-minded companies in the local area and to gain and share knowledge. Having worked my way through the business from apprentice coiler, through design and estimation to sales manager at a young age, I hope to share a new perspective on the changing world of working life.
Personal
I don't have too many hobbies, however, when I do have free time, I like to spend it relaxing with my partner and exploring new towns and cities. I have recently started gardening but probably shouldn't admit that at 25!!
Favourite football team
The only football team I follow is in the NFL with the Philadelphia Eagles. St. Helens rugby league is my team to follow.
Musical performer
Nothing will beat listing to John Mayer on a sunny afternoon.
Movie
Need for Speed or the original Spiderman
Books
One of the first books I read was "A Street Cat Named Bob".
Best motoring moment
Driving through the sand dunes in Dubai with my dad on quad bikes before pushing it a little too hard and flipping. Sand is NOT soft at high speed!
Best business advice you've ever received?
Although I've only been in full time work for 7 years, I have experienced a lot. The best advice I received was from my mum, she told me to never cut ties and treat everyone with the upmost respect. You never know where that person might end up, a lifetime is a long time and that person could be the stepping stone to future success for a helping hand when in need.