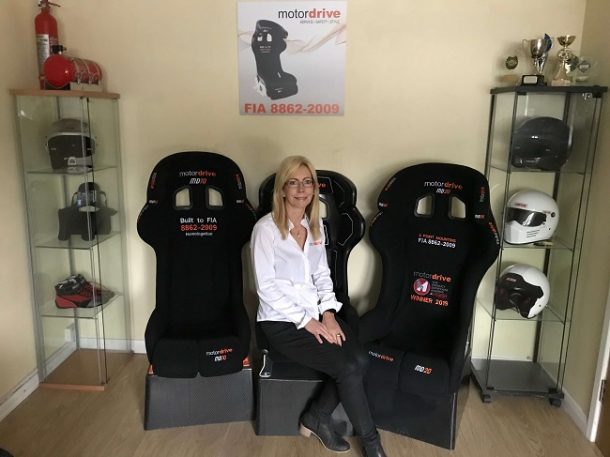 In the Driving Seat: Julie Meadows, Motordrive Seats
'Finding a Place to Park my Melon' makes its first appearance as the favourite book in our 'In the Driving Seat' feature, with Julie Meadows from Motordrive Seats…
Name
Julie Meadows
Company
Motordrive Seats
Position
Owner Manager
Apart from that
Ex Chair of Chorley Building Society, Governor Westholme School
Association with NAA
Joined the NAA in late 2020 with common interests in composites manufacture, automotive OEM supply chain and developing business in the North of England.
Why did you join the NAA?
Although Motordrive operates in a very unique field, manufacturing FIA motorsport competition seats, we saw the opportunity to contribute to common issues with members of the NAA, to network and seek support in sector specific expertise which we do not have in-house. Paul and the team were encouraging from the off and have already made valuable introductions.
Personal
I am a Chartered Accountant by trade, live in Chorley with 'Mr. Motordrive', A.K.A. Darren and have two semi-grown up children who are university students. Motorsport is a big part of the Meadows' life, however I leave the competing to other members of the clan and stick with my more sedate pilates. 
Favourite football team
Football – really? But if you twist my arm it would be Real Madrid who I have seen play and just seem to dance with the ball (is that a thing?).
Musical performer
Bryan Adams
Movie
Love Actually
Books
Finding a Place to Park my Melon
Best motoring moment
Where do I start with this one? From a pure enjoyment perspective it has to be a two-wheeled spectacle and would be attending the Moto GP at Valentino Rossi's home track in Misano. The whole experience was electric and the "Doctor" was well and truly in the house. From an in-car perspective it would be driving spontaneously from Chorley to Nice in The South of France just for a meal of Moules frites (I was young once, wasn't I?).
Best business advice you've ever received?
Every overnight success takes ten years.