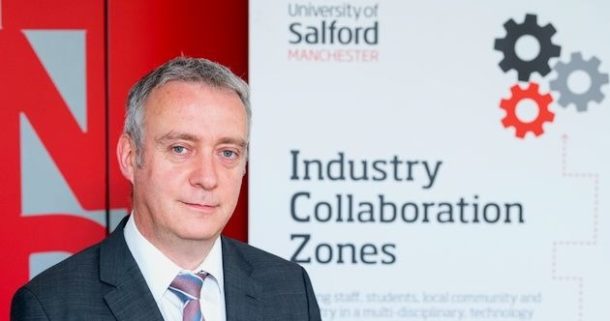 In the Driving Seat: Mike Brown, Director of Strategic Partnerships, The University of Salford
Mike Brown says he's still waiting for his best motoring moment, so any NAA members who can help are welcome to do so…
Name
Mike Brown
Company
The University of Salford
Position
Director of Strategic Partnerships
Association with NAA
The University of Salford became an official member of the NAA in January 2020. Common interests: working to help the regional automotive industries and businesses innovate and be successful.
Why did you join the NAA?
My role is to develop mutually beneficial strategic partnerships with industry. Membership of the Northern Automotive Alliance provides the perfect environment to improve, grow and strengthen the University's engagement with the Automotive industry in the areas of emerging technologies such as Connected & Autonomous Vehicles and EVs, and we share the NAA's goals to grow and develop industry-leading activity in the region.
Personal
Interests include Formula 1 and the cinema
Favourite football team
Don't do football. The only teams I follow/support are McLaren and Red Bull.
Musical performer
Pink Floyd, Coldplay, Tears for Fears, New Order
Movies
Some Like It Hot, The Life of Brian, The Blues Brothers, Animal House, Ironman, the new Star Trek movies, Star Wars, the list goes on…
Books
Jack Reacher and most of the Tom Sharpe books.
Best motoring moment
Still waiting
Best business advice you've ever received?
The Golden Circle (Simon Sinek), and be straight, honest and truthful, and strictly no BS.