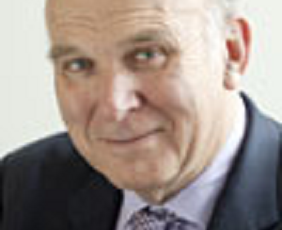 Industrial Strategy – Cable outlines vision for future of British industry
Today is an opportunity to set out an industrial strategy following the comments in Parliament yesterday. Industrial strategy is a cross-government product, which I have worked on specifically with my colleague David Willetts and Lord Heseltine in developing.
Over the last few weeks the papers have been full of pictures of athletes. The Olympics provided a unique opportunity to celebrate the things the UK does well.
Our athletes achieved what they did because of their years of commitment and planning. I was initially a sceptic; I could see the costs but not the benefits. But the games proved to be a success. Years of planning and investment in pursuit of a clear and ambitious vision were realised.
I think there is a read-across to the way we approach our economic future. We need to take the same approach: a clear, ambitious vision; the courage to take decisions that bear fruit over a long period; openness to new opportunities as they develop; focus on the things we do best; and an enduring commitment far beyond a five year parliament or spending review period.
When I worked in industry, I worked in an oil company and we planned much more than five years in advance.
Some will always say the best thing – the only thing – the Government can do is get out of the way, laissez-faire. This ignores the successful experiences of countries with economies as diverse as Finland and Germany. Indeed, so many other countries who have successfully shaped their economic future, including countries like the USA where the rhetoric of markets often obscures the reality of long term planning and good organisation.
I have made it clear how much I disagree. The Government shapes the British economy with its decisions every day.
It makes many decisions about skills and universities, on research, on technologies, and on infrastructure. Through what it buys, and how it goes about buying it, the regulations that exist, the markets it oversees, and tax policy. All of these send messages to the economy. We can have an industrial strategy by default or design. Ignoring this reality is not a policy – it is just negligence.
But just as bad would be to approach all our possible interventions in an ad hoc way, subjecting every policy decision to a short term tactical decision. There is not a serious and successful major company in the world that would proceed in such an unplanned way.
A popular mantra is that government should be more like business. In many respects it should. Good businesses make plans, have clear strategies, and through this make tough choices about where to put their resources.
We must plan for the long term. Government must work with business.
It is what having an industrial strategy is meant to deal with and why it is so important. There are two basic propositions. The first is that it necessary to plan for the long term. The second is that the government can and must work together to deal with genuine market failures, where the benefits of education or the costs of environmental damage – for example – are underestimated by markets.
Industrial Strategy
None of this detracts from the need to create an environment in which entrepreneurs find it easy to start and grow a business; or from the need to pursue demand-management policies which stimulate growth and maintain financial stability. Industrial strategy does not create tension with the deregulatory announcements made yesterday – it is all part of the same approach to supporting growth.
In the late 1970s the term 'picking winners' was used by government, which 'left a bad taste'. We have learnt from that era and need to accept future uncertainly in the economy. Industrial strategy has to allow for change.
The truth is that, Britain has for a long while been regarded as an outlier in how purist we are about taking a proactive approach to our economy. 'Naïve' is the word I often hear from business about the traditional consensus.
When I first started working in Shell I was given a sentence in Arabic, which translated into 'Those who are able to predict the future are lying – even if it turns out they are right'. That is why industrial strategy has to have space to adapt.
So a co-ordinated industrial strategy will not be a quick fix. Nor is it risk-free – by its nature, it cannot be. A good industrial strategy allows for failures, and recognises that innovation may strike in an unpredictable place – we must be ready for that too. But as the credit crunch showed, there are huge risks to taking a complacent, hands off approach. And as our thriving automotive and aerospace sector show, I strongly believe the potential rewards are substantial.
We have identified several areas where government action can have a real and early impact. These are: access to finance, partnerships with sectors; support for emerging technologies; creating a pipeline of skilled workers; and finally, government procurement and the development of supply chains. I want to focus on each of these in turn.
Business bank
The first area where Government will be taking urgent action to secure our long term industrial success is in the approach to access to finance. We are living with the aftermath of a disastrous banking collapse. Four and five years on, big firms, by and large, are able to raise short and long term finance via capital and equity markets. Many successful smaller companies finance themselves through cash flow. Others bravely launch businesses financed, as the wags put it, by 'friends, families and fools'.
But many businesses face real issues in raising finance. The latest SME Finance Monitor shows that in the last 12 months, 33% of businesses who applied for a loan were rejected. The big banks including the semi state-owned banks are preoccupied with repairing damaged balance sheets. So we need more competition and more diversity of supply.
There is a chronic dearth of long-term capital-limited options for 5 plus year loans.
There is also a real shortage of long-term, patient capital for businesses. Try and secure a loan for more than five years or venture capital, and options are very limited, especially for innovative, high growth potential firms.
We are acting to tackle these issues: Launching the Funding for Lending scheme which lowers the cost of funding for banks that increase their lending, running schemes such as the Enterprise Capital Funds and the Enterprise Finance Guarantee to help early stage businesses, without a track record or collateral, to access venture capital finance or bank finance, and stimulating the development of non-bank finance sources through the £1.2bn Business Finance Partnership. The big banks have launched the £2.5bn Business Growth Fund providing equity.
But it's essential we increase diversity in the supply of finance and institutions which provide a coherent, relationship banking service to viable growing businesses. This is why we are working on setting up a government-backed institution, which is currently in gestation.
In the UK such a bank could operate through alternative providers such as the new challenger banks like Handelsbanken, The Co-Op and Aldermore and non-bank lenders boosting their lending capacity as well as corralling existing provision such as co-investment and guarantees to support business expansion.
We are currently working with the Chancellor to establish the scale and modus operandi of such a body. The measure of the institution's success will not be the scale of its own direct interventions, but how far the appropriateness of its interventions shakes up the market in business finance and helps to ease constraints for high-growth firms. As such, it will play an important role in supporting our industrial policy, including existing innovations like the Green Investment Bank.
Sectors
The second strand of our industrial strategy is to build a collaborative strategic partnership with key sectors. The examples I often give are aerospace, automotives, and life sciences, but the list runs far longer, and could stretch from our existing strengths in creative industries and professional and business services to our early lead in the rapidly changing electronics systems sector.
What is the starting point for this? We are dealing on a global scale with fierce competition – between companies and countries. We are committed to compete while being an open economy. We are not economic nationalists and welcome foreign investment. Protectionism isn't part of our vision of an industrial strategy.
Different industrial sectors require varying degrees of government support and collaboration. At one end of the spectrum, much of the economy does indeed function on its own. Here our efforts are best placed on making UK a good place to do business, with attractive policies on taxation, regulation, and with free and efficient markets.
At the other end are sectors that require a long-term, strategic partnership with government. We have the institutions to deal with them; the Automotive Council and Aerospace Leaders Group are models of what I have in mind.
These are sectors, which by their nature, need a long term approach. Aerospace demands very long time horizons and there are literally trillions of pounds worth of orders for civil aircraft alone over the next 20 years or so. Britain will not get a decent share of these orders and maintain its status as having the world's second largest industry without sustained investments in R&D. And, of course, this is an industry where government and business have long been intertwined. Automotives is another, perhaps surprising success story, with £6bn of investment committed over the last two years, for the first time in decades a trade surplus. This is down to our companies, mainly foreign investors, but they make it clear that they also look to government. Low carbon vehicle development, for example, requires research in intelligent mobility and support for building up supply chains.
Today my Department is publishing a new analysis of UK sectors (PDF, 1.1 Mb) , which sets out those areas where government support will be focused. All sectors that invest over a long time scale demand a constant flow of new knowledge, skilled engineers and scientists, and often are very heavily affected by government regulation.
The focus is firstly on advanced manufacturing, as with aerospace, automotive and life sciences. The second is knowledge-intensive services which now account for over 12% of GDP and 14% of exports like higher education, creative industries and professional business services. A third group are sectors – the information economy, construction, energy, including green energy and the digital and creative sectors – which provide key inputs to our internationally traded activities.
These specific areas offer significant growth opportunities for the UK economy, benefiting from the long term trends like globalisation.
To give clarity to this approach, we will develop and deliver a number of partnership sector strategies in the coming year. The aerospace sector is already well advanced, and a strategy for automotives will follow.
Early next year we will also deliver strategies for the non-health life sciences, including looking at agri-tech to build on our strengths in food and drink sector. The Prime Minister is today meeting with a number of the UK's leading food producers and retailers to promote and support their plans to get more young people into jobs in the food industry.
We will also look at nuclear; renewables; and oil and gas industries and chemicals.
We will follow that with plans for the information economy building on the success of TechCity, and education exports by next spring; and construction and professional business services by next summer. We will have a progress report on implementation one year on.
We will keep an open mind and we have to be flexible – not locked into rigid strategies – ready to respond as new sectors develop and new opportunities emerge. This is a plan for the long term and we must learn from success and from failure, and evolve our strategy.
Last night I went to a dinner – and the businesses there were ready to invest in garment industries. Technology has changed. There is a role of government – not in direct investment – but in skills, for example skills in textiles have disappeared and government can play a role in supporting. This is the flexible approach we are going to have.
Technologies
One of the most powerful levers at our disposal is the potential of innovative technologies and the pipeline of skilled people.
Supporting the emerging industries of the future requires us to address some of the market failures involved, especially during the development phase, and to ensure there is a pipeline of skilled people to work in them. Ground-breaking technologies are often too risky or resource intensive for individual companies to nurture on their own so government has an important role to play in accelerating the journey from pure academic research to its commercial applications. For example, in a meeting recently it was pointed out to me that we need to think in new ways about how to harness Britain's competitive, technological advantage in algorithms, which we see in cryptography at GCHQ, private sector IT research and even financial engineering in the City. This is a very sophisticated sector, which can feedback into education.
We have to think forward about skills. David Willetts has asked the Government Office for Science to update its Foresight report on Technology and Innovation Futures, taking a fresh look at technologies important to growth in the UK over the next 20 years. The initial report identified three areas – from synthetic biology to graphene, intelligent sensor networks to service robotics – which can have a material effect on future growth rates.
The Technology Strategy Board is now concentrating on supporting these nascent disruptive technologies with the potential to grow into new industries in ten years. As it becomes clear what will be the new disruptive technology, we will be ready to adapt our strategy to reflect the new world.
Already, around two thirds of the companies backed by the TSB are start-ups or small firms, and that will continue as the new research programmes take shape.
So far, the TSB has identified three areas with significant economic potential for the UK. We have already announced a competition for synthetic biology, launching on 8 October, to win a share of £6.5m funding. I can confirm today that two further competitions will launch on 8 October, offering a share of £1.25m for energy efficient computing, and £1m for energy harvesting for autonomous sensing, developing the technology to underpin the intelligent sensor networks highlighted in the Foresight report.
I can also announce today that the TSB – along with our research councils and others – will establish an Innovation and Knowledge Centre in Synthetic Biology.
The TSB's work reinforces the government's decision to invest over £200m to set up the Catapult centres, a national network of elite technology and innovation centres. These centres will support the development of core technologies in disciplines such as high value manufacturing and cell therapy; offshore renewable energies and satellite applications.
Other investments we have made include £60m to create a new UK Aerodynamics centre; £50 million of new investment to support the commercialisation of graphene; £145 million to invest in high performance computing to fund software, data storage and wide bandwidth networks; and £180 million in an Integrated Translation Programme to support the commercialisation of innovations in the life sciences sector.
I want to ensure that such investment represents not just burst of ministerial enthusiasm but a consistent, long-term approach over future parliaments and spending reviews. Key to this will be expanding the role of the TSB as resources allow.
Skills
We also need a long term commitment to world-class skills.
The Government has – rightly – focused on apprenticeships. We have made significant progress. We have seen a 63% increase in the numbers of apprenticeships in 2010/11, and nearly 400,000 new starts in the first three quarters of 2011/12. This is a good success story and industry likes it. But, we cannot rest on our laurels, Doug Richard will report in next month with ideas on how we can get even more value from apprenticeships.
At the heart of our strategic thinking is the need to give employers more direct control of how the Government funding on vocational skills is spent. We need to channel control of apprenticeships to for employers. Clearly, they know better than anyone the long term skills needs of their workforce.
We have therefore launched an Employer Ownership Pilot scheme, which is giving businesses access to £250m funding for vocational training. Employers, working together in sectors or with supply chains, have put together a wide range of innovative proposals to design and develop their own training programmes.
I can announce today that 34 bids have been successful under round one of the scheme, securing £67m in public funding and, importantly, generating £98m in private investment.
In total the successful bids are expected to support nearly 11,000 new apprenticeships, including 4,400 for 16 to 18 year olds, and 27,000 vocational courses such as NVQs. In addition, the successful bids will offer some 49,000 training opportunities such as work experience placements.
I can confirm today that we will be launching round two of the scheme, to potentially allocate the rest of the £250m budget, in the autumn. The second round will test in more depth the value of employer ownership in terms of boosting productivity and growth.
Many of the best bids came from many of the sectors I have mentioned – such as construction, advanced manufacturing and automotive.
Also on the agenda are the skills of our professionals. One of the biggest long term challenges will be the supply of engineers. We are chronically short at present. I take encouragement from the fact that this year's applications to university show Engineering has remained a popular choice. But we need to do much more.
The decision – announced in the aerospace strategy – to fund jointly with industry 500 Masters Degree places in aerospace engineering between 2013 and 2016 is an example of how we will have to work together to dismantle the barriers to growth arising from skills shortages in the priority sectors.
Procurement
But we understand, too, that government has a responsibility to take seriously the role that public procurement plays in creating business confidence to take long-term investment decisions.
Procurement regime rules are set at European level, to maximise the benefits from a single procurement market across Europe. We are pressing for some changes in it. But there is a constraint on our freedom of action outside the defence sector. There and elsewhere, value for money is also a key concern. Nonetheless, there is scope for using public sector spending to shape markets and influence supply chains.
That is why we are overhauling the way the government procures services, to give businesses, particularly SMEs, greater clarity. In April we published £70bn of future government contracts, planned in 13 sectors, over the next five years. For example, I held a roundtable with the rail sector earlier this year which identified that tunnelling will be important for trains – an area where we are making substantial investments. To help plan ahead we have to know where decisions come from.
We are also assessing what the 13 pipelines tell us about the strategic capabilities required in the future. For example, the information on the construction and infrastructure pipeline was used to identify a demand for tunnelling capability. Consequently, Crossrail has launched a tunnelling academy to boost workforce skills in this area: an approach that could be replicated in other sectors. We are collaborating with industry to identify other capabilities – an early candidate that has emerged is high voltage cabling, and work is ongoing to seek out others.
Clearly we need to strike a balance between buying strategically with an eye on long-term capability and saving money in the short run by going for the cheapest off-the-shelf options. Either way, government can and should be a responsible customer, developing a considered, long-term relationship with our supply chain, and that is what we intend to do.
Conclusion
So these are the contours of the Industrial Strategy that we will work with industry to round out in the months ahead – a new approach, but one based on sound principles.
Support for sectors; clear choices and backing for core emerging technologies; continued efforts to boost skills; and extracting the maximum value from the government's position as a market-shaping customer. It will be backed by strategic deals with business and a cast-iron commitment, right across Whitehall, to identifying and dismantling the barriers to growth.