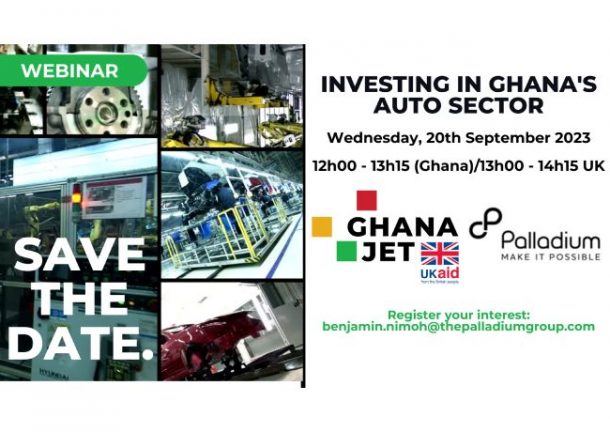 Industry Event: Why Ghana Is An Exciting Investment Destination for The Global Automotive Sector
The UK Government Funded programme, Ghana Jobs and Economic Transformation (Ghana JET) is delighted to extend an invitation to you to attend our webinar.
Title: Investing in Ghana's Auto Sector
Date: Wednesday 20 September 2023
Time: 13.00-14.15 UK time/12.00-13.15 Ghana time
JET is FCDO's flagship investment-led programme to support Ghana's economic transformation. The five-year programme seeks to spur £30m of investment and create 7,000 jobs across three priority sectors in Ghana: Automotive, Pharmaceuticals and Textiles & Garments.
In 2020, JET supported the formulation and implementation of Ghana's Automotive Development Policy which rapidly attracted investment from eight global OEMs (Volkswagen, Toyota, Suzuki, Nissan, Peugeot, KIA, Hyundai and Changan) – some in JVs with Ghanaian firms – to establish assembly plants within three years of implementation. The policy provides support for market access and a strong focus on Environment, Standards and Safety, and availability of Industrial Infrastructure. Policy provisions include:
Corporate Tax holiday for 5-10 years
Tariff differentiation for imported and local assembly
0% import duties for plant, machinery, and equipment
Value-based rebate
Estimated investments of over $50 million have been realised, with exports into the ECOWAS region now commencing. The estimated total current market for the automotive sector in Ghana is £4 billion, but this is estimated to grow to £11 billion in the coming years.
In addition, a component manufacturing policy and incentive framework to incentivise localisation of automotive components is currently under review by the Ghanaian government. Components for manufacture include Lead Acid Batteries, Suspension, Filters, Brakes, Starter/Alternator, Windscreen Glass, Wheels & Tyres and Exhaust systems.
The ecosystem in Ghana is rapidly developing with several local ICE and EV assembly ongoing (for example, Kantanka and Solar Taxi) as well as component manufacturing by Springs and Bolts, all of whom seek JV partnership and investment opportunities. There is a significant interest in the 2/3 wheeler segment (including electric version) with firms such as Yamaha, Kofa and Bajaj.
The UK and Ghana Governments are keen to build on this success: both by extending manufacturing in Ghana to the auto component sector, and by taking every opportunity to build partnerships.
Agenda
13.00-13.05: Welcome from Chair, Harriet Thompson, British High Commissioner to Ghana
13.05-13.20: Presentation from Senior Representative, Ministry of Trade and Industry, Ghana
13.20-13.30: Presentation from Ghana Auto SME seeking investment – Solar Taxi
13.30-14.00: Panel Discussion
14.00-14.15: Questions from the audience, and highlight of Investor Mission to Ghana in November 2023
14.15: Close
Panellists
Harriet Thompson, British High Commissioner to Ghana
Patrick Nimo, Chief Director, Ministry of Trade and Industry, Ghana
Matt Smith, Senior International Manager, Society of Motor Manufacturers and Traders
Jeffrey Oppong Peprah, CEO, Volkswagen Ghana
Gainmore Zanamwe, Senior Manager, Trade Facilitation, Afreximbank
Registration
To register for this webinar, click here
For more information, please contact:
veronica.boltonsmith@thepalladiumgroup.com