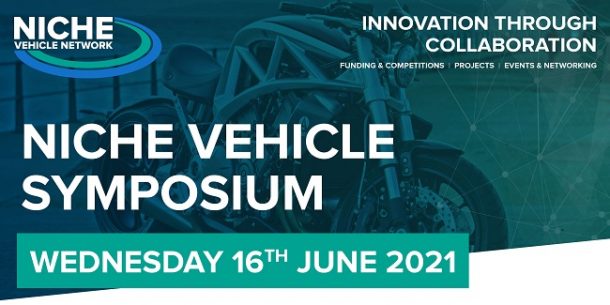 Industry Events: NVN's 10th Niche Vehicle Symposium
Registration is now open for the NVN's 10th Niche Vehicle Symposium, showcasing the best of UK niche vehicle collaborative innovation in low carbon technologies, taking place online on Wednesday 16th June.
This will be an immersive, highly informative and interactive all-day event, offering lively and compelling debate, and we are now pleased to be able to announce the provisional speaker programme, which includes:
• Dissemination of completed NVN R&D projects with technical presentations centred on the themes of vehicle electrification, zero emissions and light-weighting technologies
• Companies presenting these latest developments in niche vehicle automotive technology include Astheimer Design, iNetic, Morris Commercial, Sunamp, Arc V, University of Warwick, Chester 32, Hypermotive, TotalSim, ECS, Rift Technology, and Simpact.
Other key features of the Symposium will include:
• Interactive Panel Q&A sessions with leading industry figures and senior representatives from prominent niche vehicle companies
• A 'Virtual Hub' showcasing recent NVN collaborative R&D, low carbon technology projects
• Delegate Directory, chat facility, and business card exchange, to enable member networking and helping you to connect with other delegates throughout the event
For more details and to register: https://bit.ly/3g4McS7
Registration is free but only open to members of the Niche Vehicle Network. So, if you're not already an NVN member, you can join for free at: www.nichevehiclenetwork.co.uk
A complete agenda will be confirmed in due course.
We look forward to welcoming you to this leading industry event.