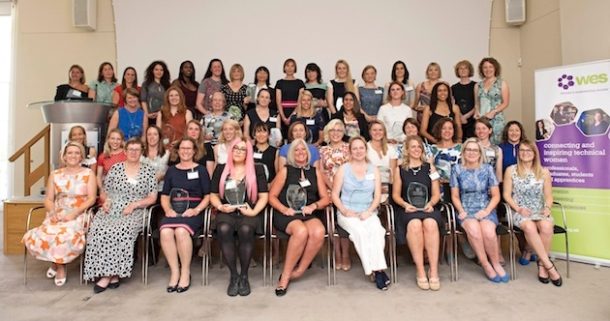 Industry News: Announcing the Top 50 Women in Engineering (WE50) 2018
The Women's Engineering Society (WES) celebrated 2018's Top 50 Women in Engineering (WE50) in partnership with The Telegraph at a high-profile event at Royal Academy for Engineering on 26 June. The WE50 winners this year represent the top 50 female Returners and Transferrers in engineering and allied sectors…
The WE50 winners represent the very broad range of routes it is possible to follow for a career in engineering. Sectors in which the winning women are employed include structural and electronic engineering, health, environment and academia. Our winners are all at very different stages in their careers, varying from early career engineers to senior leadership and from a crane operator to lecturers. The WE50 winners were awarded their trophies at an International Women in Engineering Day Afternoon Tea event held by Women's Engineering Society, hosted at the Royal Academy of Engineering.
The event was the first chance to meet all the WE50 winners (see photo), a fantastic example of the achievements of women in engineering.  WE50 winner, Savina Carluccio said of her achievement, "Being recognised as one of this year's Top 50 women in engineering is humbling and thrilling at the same time. I hope my example will inspire other female colleagues and encourage them not to be afraid to take time off to look after their young families or to take different paths in their engineering career".
The judges had to make difficult decisions, as WES received nearly 200 high quality nominations from a wide range of STEM sectors, career stages, career routes and backgrounds. There were some amazing stories amongst the nominated women – all of whom deserve our congratulations.
"The nominations were all amazing. For the Top 50, we looked for women who had overcome hurdles and returned to or transferred into/or across roles in engineering. In addition, they have all demonstrated that they are doing something to help support and inspire other women to succeed and progress in engineering whether it is working within their organisation through mentoring or inspiring young women through STEM activities for example" remarked Kirsten Bodley, Chief Executive of WES, on the winners and their achievements.