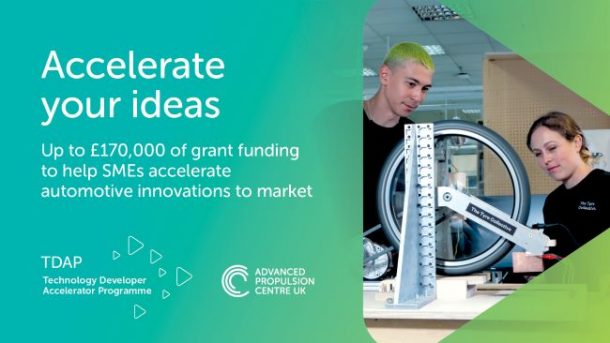 Industry News: APC UK – Accelerate your Innovation to Market
APC UK is delighted to announce that the next wave of its Technology Developer Accelerator Programme (TDAP) is now open for Expressions of Interest (EOI).
TDAP is a unique, tailored package of support for clean-mobility start-ups and SMEs, providing:
Up to £170,000 of grant support
Independent expert consultancy, mentoring and support
Focused product and business approach
Industry networking opportunities
61 companies have completed or are live on the programme, going on to raise £220m in private investment.
Who can apply?

Micro, small and medium-sized enterprises who are working to develop early-stage net-zero enabling on or off vehicle technology, products or services, and who want to accelerate their route to market and grow.
See the programme webpage for further eligibility details and to apply.