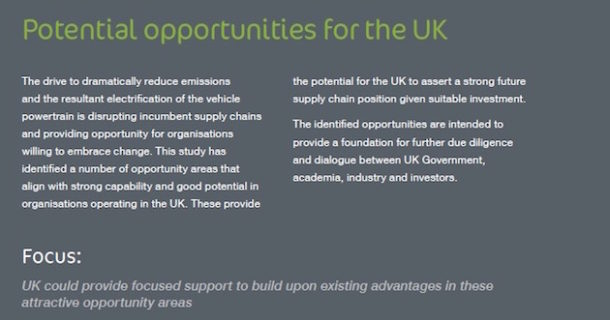 Industry News: NAA member companies! – you need to be aware of the new APC report identifying 21 Low Carbon Propulsion Opportunities for the UK
The new UK Capability Study 'Low Carbon Automotive Propulsion Technologies: The UK's capability to capitalise upon future technology-led research-to-manufacture supply chain opportunities' is out now…
The future of low carbon automotive propulsion technologies in the UK revealed by APC study
Report identifies a number of opportunities for the UK to capitalise upon technology-led disruptions to established automotive supply chains
Opportunities are driven by the need to dramatically reduce emissions and the resultant trend towards electrification of vehicle powertrains
The UK supply chain needs to act quickly to capitalise on the window of opportunity
The UK supply chain needs to collaborate
A UK-based Automotive Technology Capability Study delivered by the Advanced Propulsion Centre (APC), working in collaboration with Ricardo and E4tech, has identified a number of potentially attractive opportunities for the UK to capitalise upon technology-led disruptions to established automotive supply chains across a range of low carbon propulsion technologies.
The drive to dramatically reduce emissions and the resultant trend towards electrification of the vehicle powertrain is disrupting incumbent supply chains and providing opportunities for organisations willing to embrace change.
The study, 'Low Carbon Automotive Propulsion Technologies', has identified a number of opportunity areas that align with strong capability and latent potential in organisations operating in the UK. These provide the potential for the UK to build a strong future supply chain position given suitable investment. The identified UK capabilities, needs and opportunities are organised into five technology themes:
Engines
Transmissions, driveline and kinetic energy recovery systems
Traction electric machines and power electronics
Traction batteries and fuel cells
Lightweight technologies
The evidence base and definition of the UK's current capability and future opportunities were used to identify a series of implications and recommendations for government, academia, industry and investors. These include:
Engines will remain an important focus for UK research-to-manufacture activities for some time, but the role of the internal combustion engine will decline and the UK must evolve with this new reality.
The prioritisation of propulsion technologies is intertwined with, and needs to be developed in conjunction with, future global energy systems.
Lightweight technologies, traction batteries, traction electric motors and power electronics all present good opportunities as they are compatible with megatrends, are resilient to foreseeable scenarios, have cross-sector potential and are aligned with UK capability strengths.
Technology-led disruptions to incumbent supply chains and the resurgence in the UK's domestic vehicle manufacturers is creating a window of opportunity for the UK supply chain, but the competition is fierce and the UK supply chain needs to act quickly.
The UK can capitalise on a reputation for world-class research, being open for international business and having very well aligned research and development support through jointly funded schemes (via EPSRC, Innovate UK and the Advanced Propulsion Centre) and tax relief (via R&D tax credits and Patent Box).
Attractive opportunities may not always encompass on-shore manufacturing, however the UK needs to attract inward investment in high volume manufacturing of zero emission capable propulsion technologies to offset declining long-term demand for the 2.4 million internal combustion engines currently manufactured each year in the UK.
UK organisations need to be widely recognised as leading the world in specific and significant areas of technology to attract further investment and secure export more opportunities.
The UK lacks many global Tier 1 suppliers so the UK supply chain must collaborate to offer competitive products and services that can challenge the incumbent Tier 1 supply chain positions.
The UK needs to do more to help technology developers commercialise intellectual property for the benefit of the UK.
There are further opportunities to strengthen alignment between academia and industry with respect to identifying research, training and education needs.
The APC has conducted this study on behalf of the Automotive Council. The APC exists to position the UK as a centre of excellence for low carbon propulsion development and production and will be organising a series of events to provide a forum for dialogue and planning following this study.
To find out more and to get your free copy of the study, click here: