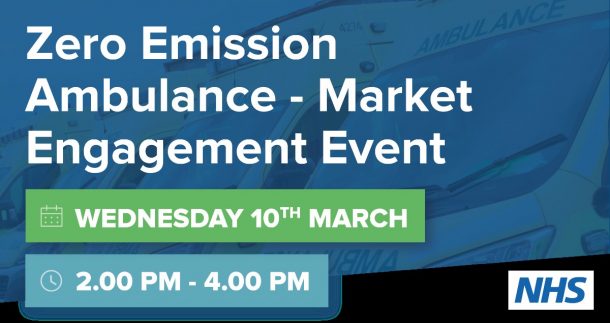 Industry News: Zero Emission Ambulance – Market Engagement Event
The NHS is committed to reducing its direct emissions by 80% by 2028-2032, becoming the world's first net zero National Health Service by 2040. Reducing carbon emissions from its own vehicle fleet will be crucial in achieving this…
To support this commitment the NHS is planning to develop a number of zero emission, lightweight, more accessible ambulance prototypes.
We are therefore holding an online event TODAY, Wednesday 10 March at 2.00pm, with the objective of engaging and consulting with the market to gauge interest, assess the feasibility and methodology to achieve this, with a view to future funding being made available for its development.
Who Should Attend?
We would particularly encourage:
Light Commercial Vehicle Manufacturers
Ambulance Converters
Zero Emission Propulsion & Energy Storage System Hardware Suppliers
Lighteeighting Technology Providers
To register for this event, click here – you will also have the option to join our Delegate Directory to facilitate networking and introductions with other delegates during the event.