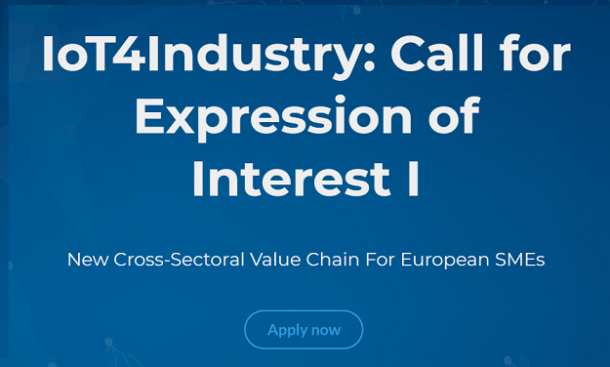 IoT4Industry project: Industry 4.0 for SMEs – Call for Expression of Interest
IoT4Industry is a 30 months project funded by the Horizon 2020 programme of the European Commission. It connects 3 Information and Communication Technologies clusters having strong competences in Internet of Things (IoT): Secured Communicating Solutions (SCS) cluster (France), microTEC Südwest e.V. (Germany), DSP Valley (Belgium);  with 4 industrial clusters having access to tool manufacturers and manufacturing SMEs: MESAP (Italy), Mont-Blanc Industries (France), Pôle MecaTech (Belgium), the Manufacturing Technology Centre (United Kingdom); and inno TSD (France).
The IoT4Industry project seeks to support EU growth and competitiveness through the development of a new cross-sectoral industrial value chain based on the integration and use of IoT and related components (sensors, chips, electronics component, communication networks, cloud computing, Big Data, Artificial Intelligence, digital security, etc.) into manufacturing tools, machines and robots, industrial processes, factories environment, supply chain integration, intra  logistics & logistics 4.0 product life cycle, smart packaging, etc. It will do so through the cross-border collaboration between SMEs and other RDI actors of the ICT and advanced manufacturing sectors.
The IoTIndustry project will provide support services (matchmaking and project design) and funding to develop such collaborative projects. The funding will be allocated through 2 calls for projects, and the support services will be provided by the consortium partners through this call for expression of Interest.
Purpose of this call for Expression of Interest
Before the opening of these project calls, we are launching a call for "Expression of Interest" to identify and transform project ideas into relevant projects for the forthcoming calls.
NB: answering to the call for Expression of Interest is not a prerequisite for answering to the calls for projects. However, it is mandatory for benefitting to the services described below.
Calendar
The call for Expression of Interest is opened until the 20th of October 2018.
More information