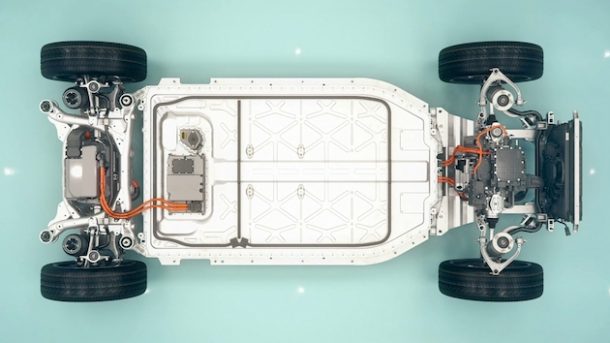 JLR to invest £15bn over five years in EVs
JLR is to invest £15bn over five years in EVs and the Halewood plant is to become an all-electric production facility.
Welcome to this month's newsletter and I hope that you are all keeping well.
Beginning with some good news, our sector is definitely on the road to recovery. New SMMT figures issued this week reveal the first annual growth in car ownership since the pandemic and record levels of vans and trucks in use.
The overall number of vehicles on UK roads is now at a 40.7 million high, with newer lower and zero emission vehicles replacing older ones, and in the process, driving down CO2 emissions from the fleet by some 1.6%.
The latest manufacturing figures marked the second consecutive month of growth for UK car production – up 6.1% in March and 6.0% in the first quarter of 2023. Electrified car output was also up by an impressive three quarters in March.
In further good news, JLR has announced plans to invest £15bn over five years in EVs, including its Halewood plant becoming an all-electric production facility, its Engine Manufacturing Centre in Wolverhampton producing electric drive units and battery packs, and its next generation medium-size SUV architecture will now be pure-electric. You can read the full press release here
Elsewhere, as highlighted in last month's e-news, the NAA Annual Awards & Networking Dinner will take place on Thursday 21 September and I am delighted to announce that the Business Awards are now open! Categories are:
Corporate & Social Responsibility, sponsored by CEVA Logistics
Design & Innovation, sponsored by McLaren Automotive
International Trade, sponsored by AMANN Threads UK
Logistics Excellence, sponsored by DHL Supply Chain
Manufacturing Excellence, sponsored by Jaguar Land Rover
People & Skills, sponsored by The Blair Project
Company of the Year, sponsored by Bentley Motors
Further details can be found on our website here and application forms can be obtained from Zoe.
Cenex-LCV has in recent years become a major exhibition for our sector and the Cenex-LCV & Cenex-CAM Seminar Themes have just been announced for the 2023 event which will be hosted in September.
The themes for this year's combined Cenex-LCV and Cenex-CAM events are:
• the Low Carbon Vehicle Transition to Net Zero
• the Transition to Connected Automated Mobility
Presentations can be related either to technology, market or policy developments. Timescales for consideration include the run in to the phase out of internal combustion engines from 2030, as well as the longer timescales through to 2050.
To find out more detail and submit your expression of interest to present, click here.
The deadline to complete the submission form is Friday 19 May 2023, but early submission is encouraged.
In other news and as part of a cutting-edge Innovate UK project called A-STAR Fitfactory Technology, NAA member Fitfactory is seeking your expertise on how best to utilise AI technology to improve productivity, material usage and energy efficiency in various sectors, including aerospace, automotive, rail, oil and gas, subsea, and nuclear – you can read more about this later in the e-news.
Moving on to the membership side, I would like to welcome three new member(s) this month – Agile Group Systems & Services; IcoNiChem Widnes and Pathfindr.
Agile Group Systems & Services will help kickstart your digital transformation journey, working with businesses large and small to identify processes that could benefit from digital technologies and provide the software and expertise required to continuously drive business performance.
ICoNiChem Widnes is a chemical manufacturer specialising in the production of cobalt chemicals for a variety of industries such as catalysts, pigments, animal feeds and of course, EV batteries.
Pathfindr's award-winning Industrial IoT solutions provide customers with real-time insights into their assets and processes, using connectivity-enabled location tracking to identify the whereabouts of assets – wherever they may be in the world – and highlight potential inefficiencies that can save firms millions of pounds.
We will be hearing more from these new members in the coming months.
Elsewhere in this month's newsletter, you can read about some of the latest developments from a selection of our other members, including Klarius Products (Emissco), MGS Technical Plastics, NanoSun, Piab, Preston Technical, The Blair Project.
Dates for your diary – NAA Events / Webinars
The Tax Credit Co. will be hosting a webinar on 24 May regarding the changes around R&D tax relief which came into play last month, and some significant grant calls in the manufacturing and energy sector due to be released in the coming months – full details can be found here.
The next NAA Members' Virtual Roundtable will take place on 7 June / 11:00 – 12:00 – the Roundtable offers a great opportunity to network with fellow members from the convenience of your own desk.
Join us on 15 June when we will head to Sigmatex UK in Runcorn for a networking meeting and tour – full details can be found here.
On Thursday 21 September we will once again be returning to The Mere Golf Resort & Spa for our Annual Awards & Networking Dinner. You can book your place(s) now with Zoe and we have several rooms reserved with the hotel on a preferential rate.
To register for the Dinner or any of the above events and webinars, please contact Zoe
Other Events / Webinars
Digital International Border / 15 May / 14:00
The SMMT is hosting a webinar in collaboration with The Institute of Export & International Trade (IOE&IT), the leading UK membership body for businesses or individuals that trade internationally. During this webinar, speakers will take a look at how the world of exports and imports is set to change fundamentally in the next three years, with the UK committing to a fully digital border by 2025. They will also outline the changes that will affect manufacturers and how you can get on board and become an early adopter to reduce costs and improve efficiencies of trade – to register please click here
Automation Revolution – Blackburn & County Durham
Supported by Make UK & Automation Magazine along with 10 world-leading suppliers including Mitsubishi Electric, Weidmuller, Rittal & Sick, this exclusive event demonstrates how products from different suppliers can be combined to create your own innovative manufacturing solution.
Target audience is Directors, Senior Managers and Senior Engineers
• Tuesday 16 May 2023 – LC Automation Ltd, Blackburn – Register here
• Thursday 18 May 2023 – Hardwick Hall, Sedgefield County Durham – Register here
Upcoming Training
SPC – 15 June
FMEA – 6 July
APQP – 12 September
PPAP – 19 October
Full details on the above courses can be found on our Training Hub here
Other News
The Apprenticeship Service has created new tools to help people fully understand the benefits of apprenticeships and how to set them up in order to deliver a high quality apprenticeship. Whether you already have an apprentice or are looking at employing one, click here to understand the benefits and herefor a step by step guide.
Innovate UK KTN has a number of upcoming events and funding opportunities in the Hydrogen sector – events and related opportunities can be found here
We have only six weeks remaining to assist SMEs in Cheshire: in conjunction with the CW4.0 Project, the NAA is looking for manufacturing companies who are interested in opportunities for growth and investment through the adoption of digital technology, with a turnover of less than €50 million, or a balance sheet total of less than €43 million – you must be an SME and you must be in the Cheshire region.
NAA Member, Autac has benefited from this project and has expanded into a new advanced manufacturing facility in Macclesfield; the third-generation, family-owned business worked closely with CW4.0 to plan the £2.8 million investment in its new facility. Using 3D laser scanning technology, the CW4.0 team was able to create a digital simulation of the new facility, allowing Autac to plan and evaluate the most efficient and productive layout for its manufacturing processes across the two facilities prior to the move – you can read more about this and find the full case study here.
For full details on how to access this funding, please see later in the e-news.
If you would like to submit content to feature in upcoming e-news please contact Zoe.
Paul Jones
NAA CEO