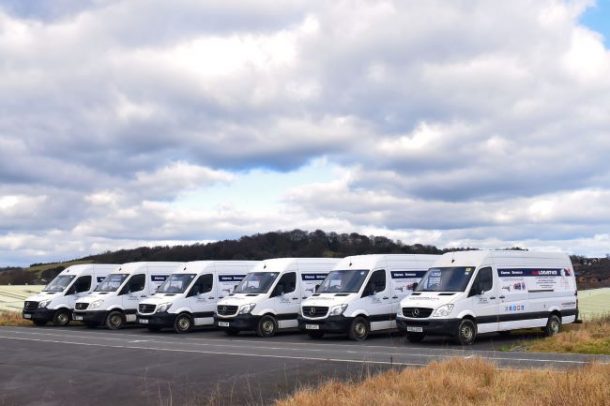 Klarius – More than just exhausts
A proud member of the Northern Automotive Alliance, Klarius Products is the UK's largest manufacturer of aftermarket exhausts. However, we're more than just that.
Our headquarters in North Staffordshire houses multiple leading engineering businesses that offer a diverse range of specialist services. From engineered production machinery to aerosol and fluid contract manufacturing as well as a dedicated logistics operation, we can support a wide range of projects for NAA members.
Meet the Klarius Group of Companies
Emissco
A contract manufacturer of aerosols and fluids, Emissco provides solutions to the commercial, automotive and rail sectors among others – the company can formulate, produce, fill, label and distribute products for customers in the UK and worldwide. Purpose-built laboratories, production equipment, packaging lines and tank farms ensure a turnkey service for aerosols and fluids. This covers a wide range of industry applications, for example, automotive products are available to suit both passenger cars and LCV/HGV's.
Emissco is also the premium partner of Yara UK, bottling and delivering Air1 AdBlue® to retailers across the UK. Demonstrating its global capabilities, the company has recently fulfilled large scale exports to the Middle East. Emissco offers a ready-made range of automotive maintenance and cleaning products ready for rebranding and distribution.
AutoLogistiks
AutoLogistiks is a UK-based logistics operation. Deploying a dedicated fleet of vans from depots nationwide, the business is an established third-party logistics provider, with a proven track record of delivering products for customers in the automotive industry and many others. Enabling robust supply chain infrastructures, AutoLogistiks allows Klarius to offer next morning delivery on any product in range. Furthermore, it supports Emissco by delivering fluids and aerosols throughout the UK. A focus on providing a localised, responsive and resilient service means that AutoLogistiks offers reliable, rapid delivery services.
KMT
A leading provider of bespoke machinery and fabrications, KMT is an established turnkey engineering solutions provider to OEMs in the automotive, rail and construction sectors. Projects carried out by KMT include developing and installing production line equipment for leading global businesses such as Alstom and Hitachi Rail. Recently, the business made a large investment in a new LVD fiber laser cutter and press brake to enhance its fabrication capabilities, offering customers a new standalone service with reduced lead times.
Hopefully, you now know a little bit more about our brands. We're excited to be supporting the automotive sector – working closely with our customers, suppliers and the local community to help grow the industry. To learn more, visit https://www.klarius.eu