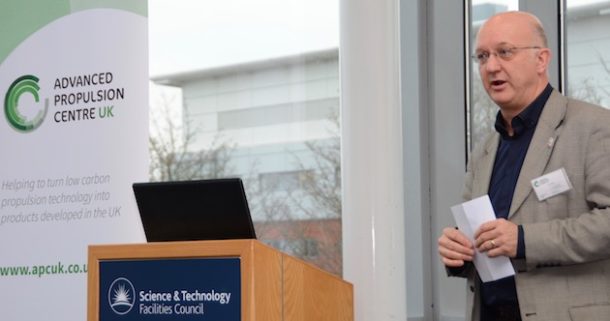 NAA APC Event Review: Funding to help small and medium-sized automotive supply chain companies develop low carbon technologies
If your company has developed technology that can help lower vehicle emissions, then the Advanced Propulsion Centre (APC) can provide support and funding to take your product to market – even if the technology is at an early stage. If you weren't able to attend the recent NAA event when the APC explained how your business can benefit, then read on…
What can the APC do for you?
If your business has developed a technology that can help lower vehicle emissions, then you can receive up to 50% funding from the APC to take your product to market. The APC's primary funding is for projects that are at a well-developed technology readiness level. However the APC can also assist with technologies that are at an earlier stage.
All of the APC's funded projects must have an SME. However the projects must be a collaboration, with an organisation that offers a route to market. This could be an OEM or a Tier 1 supplier. Universities can also add significant value.
The APC can fund large projects that are between £5m and £40m in value; the latest funding competition, APC 7, is now open, and you need to register by 29 March and submit a bid by 5 April.
However the APC can also work with SMEs on smaller projects through its Technology Developer Accelerator Programme (TDAP). This programme takes early-stage technology to proof of concept stage.
With a unique support network, the guidance of industry experts and access to funding, TDAP can help you:
Assess the technical, production and commercial readiness of your technology and business
Engage with advanced engineering and programme teams of UK, European and global OEMs
Plan the commercialisation and routes to production
Identify viable and supportive supply chain partners
Manage your way through automotive standards and processes for new product introduction
Provide funding that matches with your commitment and share some of the early stage risks of your product development journey.
 What sort of technologies does the APC support?
The APC supports technology that falls into the following categories:
Internal combustion engines
Electric machines and power electronics
Energy storage and energy management
Lightweight vehicle and powertrain structures
 How do you get the funding?
The APC runs two main funding competitions per year, every year for ten years (the total funding available over this period is £500 million, which is due to be matched by £500 from industry, resulting in a total of £1 billion).
Companies need to apply for the funding, with the bids being scored in a number of areas, but value for money and return on investment are key requirements. The project must be something that the bidding organisation couldn't afford to do without additional funding.
Application for the Technology Developer Accelerator Programme, which works with smaller companies on projects that are much lower in value than £5m, works in a different way; if you're interested to find out more, the APC will be happy to explain the details.
What else does the APC do?
As well as running funding competitions, the APC is involved in a number of other areas, some of which are summarised as follows:
APC spokes
As well as the APC's headquarters or 'hub', based in Warwick, there's also a network of 'spokes' around the UK, which are communities of experts in particular areas of low carbon automotive. One of the activities that the spokes carry out is to run events addressing specific challenges. There are currently six spokes, and in total, there are around 400 organisations connected to the APC network.
National Propulsion Showcase
At the APC's Warwick hub is the National Propulsion Showcase. This tells the story of the work carried out by the APC, and can be hired by any company wanting an 'advanced propulsion'-themed event venue.
International events
If you want to exhibit at international events but the whole idea of this sounds like it requires too much time and cost, then why not let the APC arrange a presence for you, either on an APC or a UK Pavilion stand?
Technology roadmaps
How does the UK automotive industry know what technology to invest in? Technology roadmaps lay out the industry consensus view of which low emission technologies will be adopted over the next 10-20-30 years. The APC is currently updating the range of technology roadmaps.
Capability Study
What opportunities are there for your business in the area of low emission vehicles? The APC published a Capability Study in September 2016 which highlighted opportunities for supply chain companies. For instance, a significant demand has been identified for batteries for electric vehicles, along with electric motors, and the need for vehicle lightweighting won't be reducing any time soon.
Summary
If your business supplies into the automotive industry and you need help with bringing a low emission technology to market, then you need to speak to the APC. No matter what stage your technology is at, and regardless of the amount of funding required, speak to the APC to find out how it can help.
 Who do you contact for more information?
Dan Bunting
Business Development
Email: dan.bunting@apcuk.co.uk
Phone: 02476 528 700
And of course take a look at the APC's website:
www.apcuk.co.uk