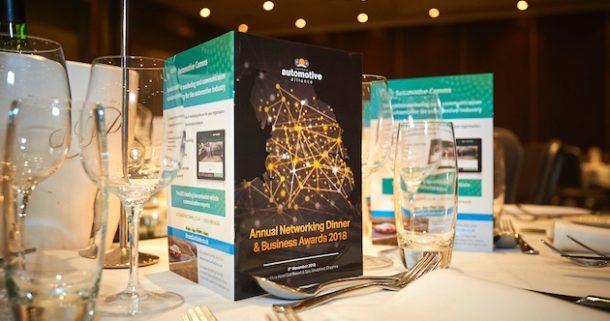 NAA Awards: Applications are now open for the 2019 NAA Awards! Which Award are you entering for?
Get your pencils, pens, keyboards and fingers ready – it's time to start getting ready for your submission to the 2019 NAA Annual Awards! The awards provide you with many benefits…
The chance to win an Award
The opportunity to become Company of the Year
Raise the awareness of your company on the evening in front of key individuals from the region's automotive community and leaders of the automotive community from across the UK
Benefit from the free nationwide PR about the event and the Awards.
You will have a company and an Award entry in the Dinner Brochure for free. There is a brochure for all attendees and many take these away for follow-up at a later point. All we ask is that you submit the required information for this as part of your application submission.
Directed introductions linked to the content of your application.
The Awards closing date is Friday 30 August, which, while it sounds a long way off, will suddenly be upon us; especially as the summer holidays are between now and the closing date.
So think about which Awards you're going to apply for and put a note in your diary to start the application process.
We have two new Awards this year and two new sponsors; here is the list of this year's Awards:
Jaguar Land Rover: Manufacturing Excellence Award
Morson: International Trade Award
DHL: Logistics Excellence Award
SMMT Industry Forum: People & Skills Award
Klarius Products: Design & Innovation Award
The Samuel James Group: Digital Media & Marketing Award
Senseye: Industry 4.0 Award
GEFCO: Corporate & Social Responsibility Award
Bentley: Company of the Year Award
We have listened to the feedback from last year's Awards and have simplified the application form, and for some Awards have completely changed the assessment process, so please check out each of the application forms from the website Link to 2019 Awards and Application information
For example; the GEFCO Corporate & Social Responsibility Award is open to all companies, both large enterprises and SMEs and by 30 August all you need to do is to submit a very simple Expression of Interest Form and then judging will be against a presentation with the content decided by you, that you give to the judges.
If you have any questions about the Awards process then please contact zoe@northernautoalliance.com. We can also offer advice on the completion of your application to enable you to maximise your opportunity to win.