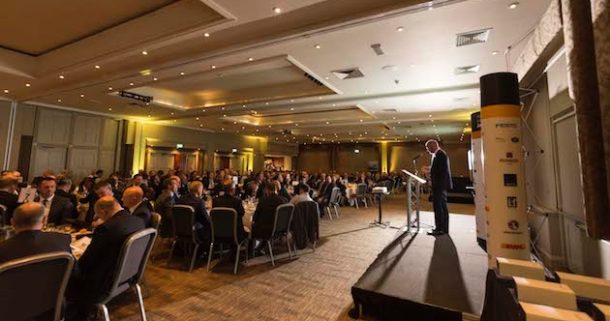 NAA Awards: Get ready… for the 2019 NAA Awards Dinner – very last chance to book your table!
The NAA Awards Dinner is the Northern Automotive networking opportunity of the year, so make sure you've booked a seat! The event takes place on Thursday 7 November at the Mere near Knutsford in Cheshire.
The NAA is delighted to announce that Prof Jon King Hon DSc, CEng, FIMechE of WMG Centre High Value Manufacturing Catapult will be replacing Robert Llewellyn as the Dinner Guest Speaker! The late change has come about due to a shift in Robert's filming commitments for the new series of Red Dwarf.
Jon has had an impressive career to date in the automotive sector, with past roles in Ford, Nissan and British Steel, as well as a move into automotive engineering consultancy, eventually becoming MD of the UK arm of that business. Jon's current role is with the WMG Centre High Value Manufacturing Catapult and his focus is on the electrification of transport and supply chain development, especially at SME level.
Jon is also a long-standing member of the UK Automotive Council Supply Chain Group, recently chaired the Society of Motor Manufacturers and Traders' Automotive Components Section, and sits on governance boards for automotive sector supply chain improvement programmes.
The NAA is also delighted to announce that Steve Dickson will return once again as the Master of Ceremonies for the night. Steve is a marketer and trainer and is passionate about supporting teams in customer service, sales and presentation skills, having worked in a wide range of industries including automotive.
This is your last chance to book a seat at the 2019 NAA Awards Dinner. A table of 10 is available for £800, with individual tickets at £85. For all booking enquiries please contact zoe.desoer@northernautoalliance.com
To finish, the NAA wishes those companies who have been shortlisted for an Award the best of luck on the night – which one will take home the prestigious Company of the Year, sponsored by Bentley Motors? Please see below for full list of shortlisted companies:
Manufacturing Excellence (Sponsored by Jaguar Land Rover)
• Klarius Products Ltd
• MGS Technical Plastics Ltd
• Sigmatex (UK) Ltd
Logistics Excellence (Sponsored by DHL Supply Chain)
• Klarius Products Ltd
• Setco Automotive (UK) Ltd
• Sigmatex (UK) Ltd
People & Skills (Sponsored by SMMT Industry Forum)
• MGS Technical Plastics Ltd
• Sanko Gosei Ltd
• Setco Automotive (UK) Ltd
Digital Media & Marketing (Sponsored by The Samuel James Group)
• Hylomar Limited
• Juice Immersive Ltd
Industry 4.0 (Sponsored by Senseye)
• Briggs Automotive Company (BAC) Ltd
• Carbon Performance Limited
Corporate & Social Responsibility (Sponsored by GEFCO)
• Businesswise Solutions
• Jaguar Land Rover Halewood
• MGS Technical Plastics Ltd
• Morson Group
• Pirelli UK Tyres Ltd
International Trade (Sponsored by Morson Group)
• Autac Products Limited
• Briggs Automotive Company (BAC) Ltd
• Hylomar Limited
• Irish Pressings Ltd
Design & Innovation (Sponsored by Klarius Products)
• A|2|O Innovation Solutions Ltd
• Briggs Automotive Company (BAC) Ltd
• Carbon Performance Limited
• Connect 4.0 Limited
• Equitus Engineering Limited
• Preston Technical
• Sanko Gosei Ltd