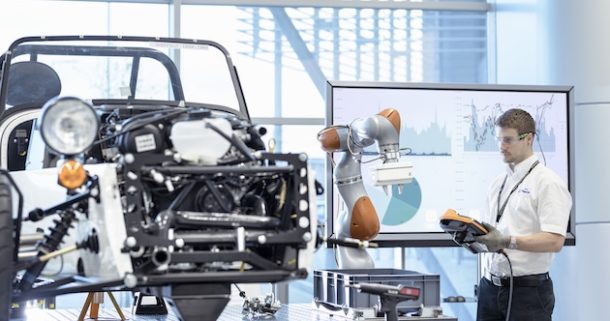 NAA Company Profile: The University of Sheffield Advanced Manufacturing Research Centre with Boeing (AMRC)
The AMRC is a global network of research and innovation centres that work with some of the most demanding and prestigious manufacturing companies around the world…
From McLaren, Aston Martin, JLR and Bentley in the automotive sector, to Rolls-Royce, Boeing, and Airbus in aerospace, the Advanced Manufacturing Research Centres are the go to places for top flight companies who want access to the best engineering talent in the world and the state-of-the-art facilities to match.
A global leader
Headquartered in Sheffield/Rotherham, the AMRC has grown from humble beginnings – a driven-team of ten at the turn of the Millennium – to becoming the sought-after home for some 600 researchers from every corner of the world. We now have three facilities being built or planned in Korea; a facility in the Gulf; and plans for a centre in the USA.
We cover the whole manufacturing life-cycle, from design, prototype and testing, through to scale up machine production, where our engineers are famed for pushing back the boundaries of the possible in the machine tool industry.
Gaming-changing improvements in productivity
The productivity gains we have achieved for the likes of Rolls-Royce and Boeing are not merely incremental: they are changing the game in a way that is de-risking often strategic investment decisions that secure high-value, skilled engineering jobs here in the UK.
Lightweighting and composites
The automotive sector knows it has to lose weight. But it needs to do it while retaining its strength and performance. Our expertise in composites was key to McLaren's decision to on-shore its European tub production to Sheffield: but we have also been able to support them in areas as diverse as discrete event simulation through to lightweighting.
It is estimated that a 10 percent reduction in vehicle mass can result in a fuel economy improvement of up to 5 to 7 percent. Though achieving greater fuel economy is a main driver for many lightweighting material and process technologies, there are other benefits.
Weight reduction is also appealing to automakers because it tends to increase other performance factors valued by consumers: ride and handling, braking, and acceleration. Another key motivation for using new and more highly engineered materials is to improve vehicle safety and crashworthiness.
By switching to lightweighting materials – such as high-strength steel, aluminium, magnesium, and composites – and adopting new forming (hot stamping and high-integrity casting) and advanced joining (adhesives, friction stir welding, fasteners, and laser welding) technologies, automakers will be able to significantly reduce the weight of new vehicles.
The AMRC has expertise in all these fields. And it is also heavily involved in supporting the Faraday Challenge in developing new battery technologies and management systems: both in Sheffield and in the North West.
Digital Meets Manufacturing
The AMRC, and its flagship Factory 2050, are at the cutting edge of the new wave of digital technologies – AI, Augmented and Virtual Reality, Cloud and Edge Analytics, Digital Twins – that are changing the face of manufacturing around the world.
Our expertise in robotics and automation, coupled with advanced programming and design, is breaking new ground in the capabilities and performance of robots and cobots.
The AMRC's close collaboration with BAE Systems, for instance, not only de-risked a strategic investment in advanced robotics, but has led to production savings in the tens of millions of pounds. Our work on production line assembly and smart workbenches is redefining the art and science of the possible, especially for complex, small batch work.
From digital work instructions, collaborative systems and smart fixturing, through to remote support, intelligent kitting and manufacturing informatics, we are able to add value to our partners' production methodologies: unlocking improvements in performance and quality by identifying the right data to interrogate, at the right time and in the right place.
Find out more at: www.amrc.co.uk