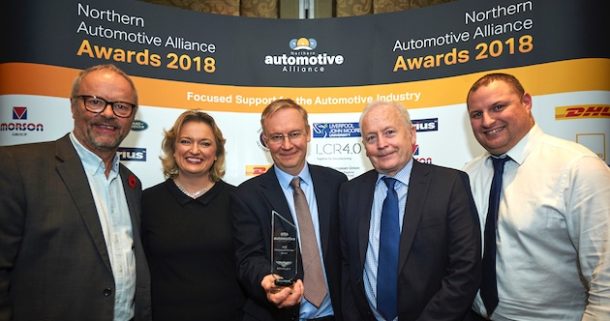 NAA Event: Low Emissions Agenda Drives the 2018 Northern Automotive Alliance Awards
Low emission vehicles and sustainability were the driving forces at the 2018 Northern Automotive Alliance (NAA) Awards – for the winning companies, and for the message from the evening's Master of Ceremonies and Guest Speaker, Robert Llewellyn.
The NAA Awards, which showcase the successes of vehicle manufacturers, supply chain companies and service providers in the region, took place in Cheshire on 8th November 2018.
The winner of the overall NAA Company of the Year Award 2018, sponsored by Bentley Motors Ltd, was Force Technology; the company also won the Logistics Excellence Award, sponsored by DHL Supply Chain. Force Technology designs, manufactures and tests springs for high precision, high duty applications in a range of sectors such as automotive, including supercars and motorsport. Force Technology is increasingly delivering design consultancy for the development of spring and valvetrain technology that results in lower vehicle emissions.
However these weren't the key reasons why the judges awarded the Company of the Year accolade to Force Technology. What made the business stand out was that it has become a major supplier of high performance springs to some of the largest customers globally in just three years since the business was founded.
Steve Williams, Managing Director at Force Technology, explained why he believed the company had become so successful in such a short period of time. "When we started the business we had one clear vision – to be world-class. This approach has enabled us to gain large contracts that traditionally would only have been awarded to companies that had been established for much longer periods of time. I also have to thank the NAA for the excellent support it has provided to help us launch and grow the business so effectively."
Other NAA Award winners included:
AJE Powertrain, for developing lightweight components from recycling waste titanium
Klarius Products, for an impressive growth in profits and international exports of its emission control components
Sigmatex, for its training and development programme during a period when it was developing more sustainable carbon fibre production methods
MGS Technical Plastics, for reducing waste energy in its manufacturing process
GenLab, for using simulation to make its factory more efficient
BAC (Briggs Automotive Company), manufacturer of the single-seat Mono, for a bespoke approach to developing and growing customer relationships.
Rowan Egan, NAA Chief Executive, commented: "As my first Awards event as NAA Chief Executive it was impressive to see the diverse range of companies in the Northern region that are offering world-class products and services – with our 2018 Company of the Year, Force Technology, being a perfect example. It's also good to see that low emissions and sustainability are taking a greater priority in our Northern industry."
Wes Jacklin, Chairman of Directors and Advisory Board, Northern Automotive Alliance, added: "The NAA has been very effective in supporting automotive supply chain companies, and our Awards Dinner is an ideal platform to showcase the achievement of the region's businesses. As we enter a period where collaboration will be more essential than ever, the NAA has an increasingly important role to play to bring together different organisations from a range of sectors to develop solutions for tomorrow's mobility challenges."
The evening's Master of Ceremonies and Guest Speaker, Robert Llewellyn, entertained the audience with stories about his adventures with electric vehicles, leaving attendees in no doubt that highly capable low emission vehicles are already here, and that the transition to greener transport offers significant business opportunities for automotive supply chain companies.
The full range of winners at the 2018 NAA Awards event were:
Company of the Year Award
Sponsored by Bentley Motors Ltd
Force Technology Ltd
Innovation Award
Sponsored by Jaguar Land Rover
AJE Powertrain Ltd
Innovation Award – Highly Commended
CCM Motorcycles
International Trade Award
Sponsored by Morson Group
Klarius Products
Marketing Excellence Award
Sponsored by GEFCO
Briggs Automotive Company (BAC)
People & Skills Excellence Award
Sponsored by Industry Forum
Sigmatex (UK) Ltd
Manufacturing Excellence Award
Sponsored by Klarius Products
MGS Technical Plastics Ltd
Logistics Excellence Award
Sponsored by DHL Supply Chain
Force Technology Ltd
Industry 4.0 Award
Sponsored by Liverpool John Moores University LCR 4.0
GenLab
The 2018 NAA Awards event was sponsored by Cheshire and Warrington Local Enterprise Partnership.
The NAA has recently launched a new Automotive Business Opportunities service to help companies achieve commercial benefits from the rapidly changing automotive industry, such as in the areas of low emission and connected vehicles.
The Northern Automotive Alliance is an independent, not-for-profit company which provides a membership service to the automotive community, supporting micro-companies through to the locally-based global vehicle manufacturers. The NAA helps to support and nurture supply chain companies to grow into larger businesses, in order to strengthen the upstream supply chain in the UK.
Find out more at www.northernautoalliance.com