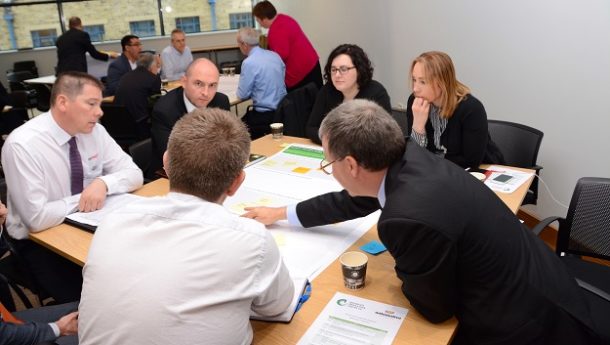 NAA Event Review: APC Electric Vehicle Supply Chain Programme Briefing and What can the Advanced Propulsion Centre do for you?
The UK is targeting that every new car manufactured will be zero emission from 2040. At the same time, production of internal combustion engines will decline. What is your business doing about this opportunity and threat?…
The NAA recently ran an event in conjunction with the APC in Huddersfield to brief supply chain companies about the opportunities presented by electric vehicles, and to obtain feedback from organisations to inform the development of an on-line resource for the EV supply chain in the UK.
In order to support the significant scale-up required in Hybrid, Plug-in Hybrid and Battery Electric Vehicle manufacturing, the Advanced Propulsion Centre (APC) is working with industry and government to support the development of the Electric Vehicle Supply Chain.
The Electrification Supply Chain (ESC) programme aims to engage supply partners at all levels of the Supply Chain and to deliver toolkits which will act as a 'one stop shop', connecting everyone from Vehicle Manufacturers to materials producers in the UK. The toolkit will also identify research projects which are underway or have been completed in this area so that companies looking to develop EV capabilities can access and leverage what has already been done to identify and build future collaborations.
In addition to supporting commercial entities to develop their business, the ESC programme will help inform the UK Government where the most significant opportunities to develop the supply chain lie and what tools we may need to do this.
During the event, delegates had the opportunity to help shape the toolkits to be used to build an end-to-end supply chain capable of delivering the maximum UK content in the powertrains of the future.
The EV Supply Chain event was followed by the 'Meet the APC' event which provided an insight into how the APC can help your organisation, beyond the EV Supply Chain activities. This was a re-run of a similar event held recently in the North West; for a full review of the event see: http://northernautoalliance.com/news/naa-apc-event-review-funding-help-small-medium-sized-automotive-supply-chain-companies-develop-low-carbon-technologies/