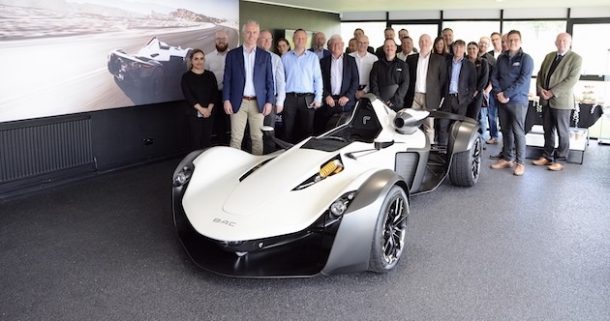 NAA Event Review: Briggs Automotive Company (BAC)
Last month saw the NAA visit member company Briggs Automotive Company (BAC) at its Liverpool headquarters for a networking event, where we were superbly hosted by Samar Behzadi from Operations and Chris Lockhart, Head of Global Sales.
Delegates were given an overview of the business from 2011 with the first launch of the BAC Mono by BAC's founding brothers Neill and Ian Briggs to today, where now Mono has been exported to over 40 territories around the globe, broken a whole host of performance records on the track and is widely considered as the best driver's car around – all of which started from two car enthusiast brothers and their lofty ambitions to bring driving purity to the world.
Delegates were then given a tour of the production facilities, where they learned that in terms of manufacturing, BAC has been responsible for a number of world-firsts in the car industry that have brought about impressive performance and weight-saving enhancements on the Mono.
BAC was the first company in the world to develop hybrid carbon-composite wheels in collaboration with British performance wheel manufacturer, Dymag. Plus, it scooped another world first when it became the first manufacturer to develop a car featuring panels incorporating the use of graphene – an innovative and lightweight material.
Pleasingly though, delegates also learned that the brand remains true to its British roots. In fact, of the 1,250 bespoke components used to build Mono from 100 suppliers, 95% are based in the UK – 45%, meanwhile, are from local companies in Liverpool and the North West region.