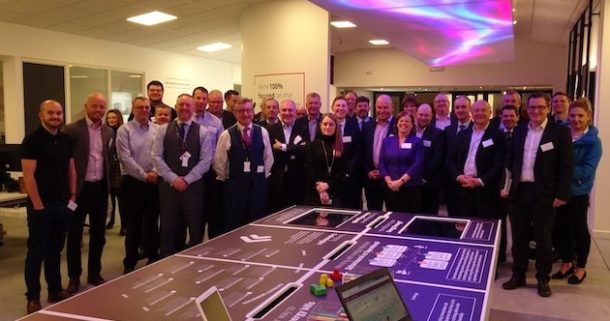 NAA Event Review: Businesswise Solutions
February's networking event took place at Businesswise Solutions, a new member of the NAA, having joined in 2018. NAA members were able to gain a fascinating insight to the world of energy management…
Changing the way businesses buy and manage energy, Businesswise Solutions provides expert energy buying and management solutions, helping large energy users reduce costs and consumption in a complex and evolving market. As experts in energy and with a proven track record in the manufacturing sector, the company understands the pain points of the automotive industry and takes a tailored approach when partnering with clients, to identify the best solution to reduce overheads.
This event was a new and different approach to how the NAA typically run its events, for some of the following reasons;
Instead of the usual factory tour, NAA members were taken on a series of 10-minute interactive sessions discussing energy and digitalisation. There was a focus on real-world, cost-effective applications such as 'Energy Insights' sensors and the 'Elements' platform (discussed in more detail below).
The event was run in collaboration with EEF, with Joel Durkin and June Smith in attendance. June gave a detailed presentation on Industry 4.0 technologies, and why it is important for all companies to begin their digitalisation journey. This was just the start of ongoing collaboration between the NAA and EEF. Contact: JSmith3@eef.org.uk
Last, but not least, NAA members were also introduced to a new NAA service – the Procurement Hub, with Businesswise Solutions announced as a new Energy Partner. Read all about it here Click here to link to press release.
Arguably the star of the show was Peter McOnie, Lancashire lead for the Made Smarter NW Pilot. Peter gave a detailed presentation on how NAA members can gain 50% match funding for revenue and capex spend on digitalisation technologies, including funding for student placements. Peter's finishing plea was that as NAA members become more digital, and therein more competitive, and they should demand the same of their suppliers – only in this way will the UK remain a leader in the 4th Industrial Revolution. Contact: Peter.McOnie@growthco.uk
Peter Catlow spoke on behalf of Businesswise Solutions, sharing insight into the energy market, and what sets the company apart from its competitors as an energy management company. Later on, as part of the interactive sessions, NAA members were introduced to Energy Insights, sensors which show exactly how a business uses energy right down to individual equipment or device level – which provides energy intelligence for reducing wasted power and improving operational efficiency. NAA members were also introduced to the Trading team for insight into how Businesswise operates its 'Flex' pricing scheme. Click here for more information.
Joe Handsaker also spoke about his company, Elements Technology, which creates simple digital solutions for manufacturers of all sizes. Joe shared his dislike for the term 'Industry 4.0' and emphasised his mission to simplify digital technologies and make them more accessible. As part of his interactive session, Joe showed NAA members his Elements Platform, which utilises consumer technologies including a web app, a mobile app and contactless technology to track manufacturing processes and automatically document them. The platform is launching in April, with pre-orders being taken in March, when manufacturers can get the starter kit for just £200. Click here for more info. Contact: joe@elementstech.io
The visit to Businesswise Solutions was yet another over-subscribed NAA event. If you attended, and enjoyed the alternative format of the event, please share your thoughts on twitter @nautoalliance.
The event was part of the BOOST Lancashire Business Programme of support. For further information, please click here