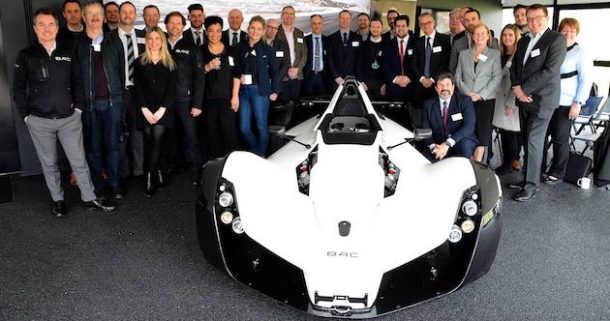 NAA Event Review: Discover the BAC Mono
NAA members benefit from opportunities to visit unique automotive businesses, and there are few as unique as Briggs Automotive Company Ltd (BAC), the manufacturer of the Mono single-seat supercar…
Neill Briggs gave a presentation to NAA members about BAC, explaining how he had set up the company in 2009 with his brother Ian. The Mono was launched in 2012 and the business soon moved to Liverpool; it now has 28 staff.
The Mono aims to be the purest driving experience, and it has now also become very personalised; items such as the seat and steering wheel are bespoke for each owner.
The factory located in Speke carries out final assembly; BAC doesn't make any of its own parts, and Neill is committed to ensuring that as many suppliers for the Mono are from the UK, and wherever possible, from the North West.
The Mono can be sold through retailers that also represent other luxury and supercar brands, as the Mono is typically bought in addition to, rather than instead of, other cars.
Production of the Mono has increased from one car to three cars per month. Over 100 cars have now been sold, and to meet global demand (the Mono is sold out until October), BAC is currently involved in securing more investment, and larger premises are likely to be required at some stage.
Neill described the NAA as being extremely helpful in a number of areas, including helping to source suppliers and with acquiring the new Liverpool factory. BAC has been the recipient of a number of NAA Awards over recent years, including the 2016 Logistics Award and the 2017 People and Skills Award.
NAA events also feature brief presentations by other members, at BAC it was the turn of Marilyn Comrie OBE, Director of the Blair Project, who is looking to develop a digital manufacturing hub in Greater Manchester funded by Innovate UK. The plan is for the hub to focus on Industry 4.0 for smaller businesses.
Tom Hughes also gave a presentation about Wynne Aviation, a Cargo Handling company based at Liverpool Airport with the aim of growing freight levels at the airport by offering an improved, 24/7 service. Unloading an aircraft takes just 20 minutes, landing fees have been reduced, and the company has a bonded warehouse.