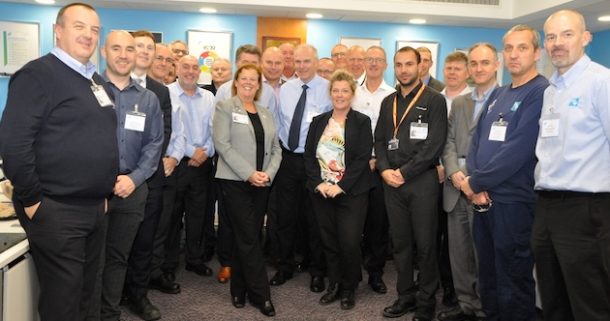 NAA Event Review: Driving Behaviour – a twist and turns safety journey
As the NSG Group held its Annual Safety Day, NGF, a subsidiary of the Group, opened its doors to allow NAA members and visitors to hear about its Health & Safety Journey at its site in St Helens.
The NSG Group's Annual Safety Day is a worldwide event in which every company within the Group takes part. Whilst safety is always top of the agenda, the day is intended to focus minds and give employees the opportunity to stop and to take stock of safety issues. Throughout the day a number of safety and general health-related presentations and activities take part in which all are encouraged to participate.
The event in St Helen's opened with an overview of NGF and the NSG Group delivered by David Farmer, MD. Paul Shacklady, EHS Manager, then gave a frank account of its 'twists and turns' Health & Safety Journey.
The company has made great strides in all aspects of Health & Safety. Paul's presentation gave a thought-provoking insight into how the company has worked with all of its employees on the journey from dependency and heading towards a truly interdependent Health & Safety culture.
The company has improved reporting procedures, using the Airweb software. It introduced SUSA, a method of observation followed by discussion, with the aim of preventing injuries and occupational illness.
Through the implementation of NABIS (NSG Anzen Bunka Improvement Strategy), NGF is beginning to create a safety culture from which everyone benefits, and everyone is involved.
Visitors then got to see first-hand the controls the company has introduced to reduce risk, the tools it has launched to improve buy-in, and the recent strategies aimed at behavioural and leadership in safety, addressing all aspects of health and safety requirements. A truly fascinating visit for all.For further information on NGF's Health & Safety Journey, please contact Paul.Shacklady@nsg.com