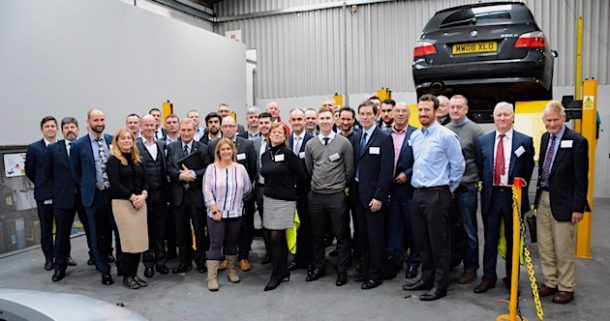 NAA Event Review: Klarius Products
In December, NAA members were able to take a fascinating behind-the-scenes look at Klarius – the NAA Company of the Year Award winners 2017…
Klarius, based in Staffordshire, manufactures exhaust systems and emissions control components such as catalytic convertors and diesel particulate filters for the aftermarket, for thousands of different makes and models of cars. Although exhausts don't need to be replaced as frequently as they used to, when they are replaced, they can be much more expensive items, especially when items such as catalytic convertors are factored in.
Klarius aims to produce products that are high quality, whilst also keeping costs down. The business has developed a variety of ways to achieve this, but one example is with the delivery of exhausts to customers. If an order is placed for an exhaust by 5.30pm, then Klarius will deliver it the next day. The company achieves this by having its own fleet of delivery vans. This is a result of most third-party couriers not wanting to deliver exhausts, which are an awkward shape and easily damaged in transit. Therefore Klarius decided to do it themselves, and they now even deliver exhausts for competitors!
In addition to the factory tour, Paul Hannah gave a presentation about the company, highlighting interesting facts such as there's no regulation covering the quality of aftermarket exhausts, which is somewhat of a concern at a time when one of the biggest problems facing the UK's environment and health is local air quality.
There was also a presentation from Josh Dene about the APC's TDAP programme, which is a way for SMEs with early-stage projects to enter onto the APC ladder with funding of up to £100,000. Examples of case studies funded to date through TDAP included projects in the areas of batteries, motors and auxiliary engines.
A final presentation was from Lars Uplh from Senseye, a company that specialises in scalable predictive maintenance. This approach changes the focus from being reactive to proactive, reducing downtime by 50%, and it has resulted in multi-million pound savings for Nissan.
Despite being outside of the normal 'Northern' region, the visit to Klarius was yet another over-subscribed NAA event. If you attended the event, share your thoughts on twitter @nautoalliance